Posted on | May 4, 2010 | 2 Comments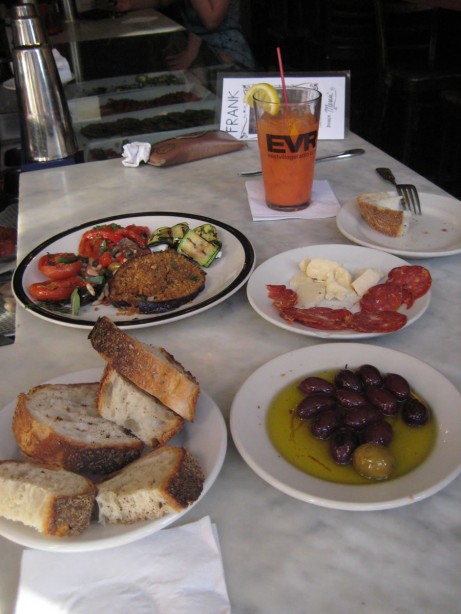 I've been going to Frank Restaurant for some time now, but I've never gotten around to blogging the restaurant.  On a warm afternoon I returned with a few friends & my camera in tow.
We sat by the bar & began by ordering some Antipasto; Olives with oil, spices & orange zest, hearty bread, sausage & Parmesan & then the main plate. Roasted tomatoes, fried eggplant, roasted peppers, goat cheese wrapped in zucchini.  This has been my go to dish at Frank for as long as I can remember, particularly on the warmer days.  The only things that were missing was the Calamari Salad (not ready yet) & the Mozzarella di Bufala (which was amazing but they no longer make).
Then we moved onto our mains;
I'll be the first to admit that none of the dishes were ground-breaking, but the ravioli really did show some imagination.  Also, my only other gripe is the lack of pricing for the specials (which change daily), it's pretty easy to ring up a massive bill without realizing it.
That having been said, Frank is still my favorite Italian restaurant in the East Village & I will continue to go there…  It can get pretty busy at night, so I recommend arriving early. During the spring/summer there are several tables outside to eat at, but I still think that the end of the bar by the window is the best bet.
Frank Restaurant: 88 Second Avenue

Comments