Posted on | August 10, 2010 | 1 Comment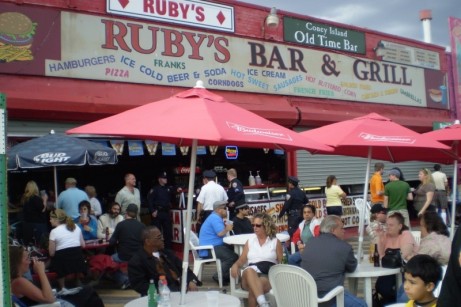 It took me about 22 years of living in NYC to finally make it out to Coney Island & when I did, I headed straight for Ruby's (1213 Riegelmann Boardwalk).  This place takes 'Dive Bar' to a whole new level & throws in a side of Coney Island Boardwalk & sea views.  Mismatched furniture, a jukebox on it's last legs & no-nonsense, gray-haired bartenders complete the look.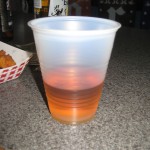 The space is basically cut into 3 parts; the bar which is along one wall, seating in the cavernous dark room (I still can't figure out where the bathroom is, or if there even is one at all) & the 'restaurant' which serves up everything from oysters to corn dogs.  I haven't been brave enough to try anything from the raw bar there, so I normally rock the fried oysters.  After a ride on the puke-inducing Cyclone (hold on to your sunglasses, trust…), you need to be careful about what you eat.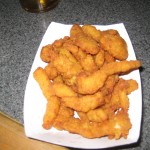 The food here is pretty much what you'd expect from a CI Boardwalk spot where you can hear the emcee from 'Shoot The Freak' heckling passersby about 10 feet away.  Fried, Fried & Fried.  The real attraction here is people-watching & the respite from the heat & humidity in the city.  As a remedy, Ruby's holds her own quite well.
The bartenders are all 'adults', don't chat to you (unless you're a local) & are VERY heavy-handed (that whiskey pictured above was twice the size…) when it comes to shots.  My kinda place!  If you're fancying a trip to the beach (not that much summer left!), try out Ruby's.  With the Coney Island development project looming, God knows how long this place will be there for…
Update; Ruby's is now Closed.
Comments