Posted on | November 2, 2010 | No Comments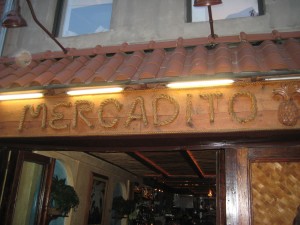 The details on this post might be slightly sketchy because I'm recounting events from several weeks ago, but here goes…  I went for an impromptu dinner with 3 buddies to Mercadito (179 Avenue B between 11th & 12th street) for some upscale Mexican food.  It was early & the place wasn't heaving yet (it can get pretty busy), so we snagged a seat by the open front doors.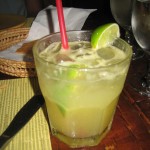 With booze on the brain, I started with a margarita which was surprisingly good considering I'm not big on tequila (one too may Jose Cuervo nightmares).  I wasn't all that hungry so I jumped right in with the Dorado ceviche ($11.50) which was insanely good.  Large, succulent chunks of Dorado (the Spanish name for Mahi-Mahi), avocado, tomato, cilantro & not too much lime.  Most of the citric acid came from tangerines and an orange-chile de árbol broth which was a really great touch.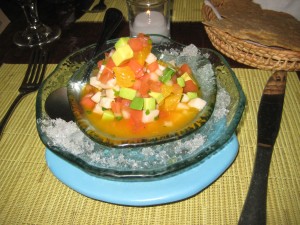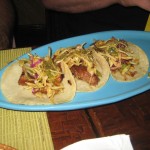 The guys decided to go on a 'taco tour' and proceeded to order pretty much every item from the taco section of the menu except the vegetarian & shrimp options.  I tried a few here & there, but I was really more interested in wolfing down my ceviche.  The tacos are served on a soft flour tortilla and all run for $14.50 for 4.  They are a bit on the small side, but most do pack a punch.  I'm partial to the tilapia tacos.  The Pescado is sautéed tilapia, grilled corn, huitlacoche, manchego cheese, tomatillo salsa.  Really damn good.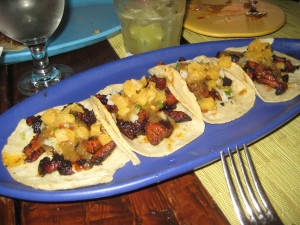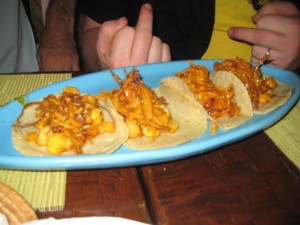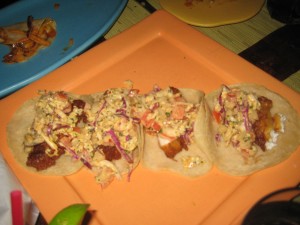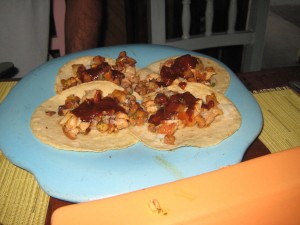 While well thought out & flavorful, I think that the tacos are really on the small side.  I honestly cannot justify spending nearly $15 on a plate of 4 tacos that are not going to fill me up entirely.  If you go on large groups like we did, you can mix & match and get a taste of the range of tacos they serve, but portion size & cost really mean that Mercadito isn't a place that I could see myself going to on a regular basis.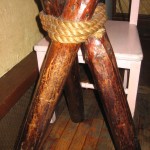 My second gripe is the ridiculous tables.  The legs of these things (I sat in the front, not sure if the tables are the same in the back) obstruct, entangle & generally annoy.  It's very hard to find a comfortable seating position & once you try to get up, prepare for major cramping.  Mercadito is a good 'once in a while' or special occasion spot, but not much more.
Comments