Posted on | November 2, 2010 | 1 Comment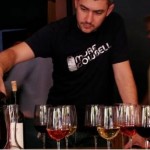 This Saturday, November 6th from 2-4pm, Keith Beavers (a.k.a East Village Wine Geek), patriarch of Alphabet Wine Company & partner in the Italian eatery In Vino (215 East 4th Street Between Avenue A and B) will be hosting a 2 hour talk/tasting about wines & why we enjoy them so much.  Keith is very enthusiastic about wine & has the knowledge to back it up, tickets are $30 (register here).
From the email:
HELLO LOVERS OF WINE!  How is wine made?  How do I taste wine?  What are tannins?  Join me as I walk you through the wonderful world of wine with WINE 101: THE USUAL SUSPECTS.

We will swirl and sip some of the more well known varietals on the market today and get down to the nitty gritty of how we enjoy wine!
Comments