Posted on | December 23, 2010 | No Comments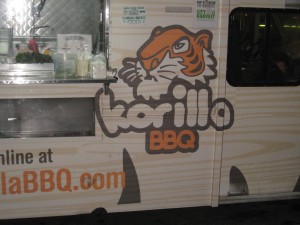 I'm not much of a food truck guy, but I have been loosely following the progress of the Korilla BBQ truck (@KorillaBBQ on Twitter).  They don't normally come around the East Village, but I saw a tweet that they'd be at Astor Place for dinner service so I decided that I had to go check them out.  I'm partial to Korean food and love both tacos & burritos, but I've never had them together, so this was going to be a new experience for me.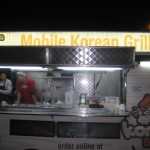 It was freezing & I had canceled a group trip to Avenue C newcomer Edi & the Wolf, so you can imagine that I was expecting hoping to be blown away by the food.  This being my first visit to a food truck, I really didn't know how this was going to work, but I had studied the menu online pretty thoroughly before arriving.  Korilla offer 3 proteins; Beef (Bulgogi), Pork & Chicken, along with Tofu. They are served as a set of 3 tacos, in a burrito with rice (white rice or bacon & kimchi fried rice available) or as a rice (Chowsun) bowl  served with various vegetables.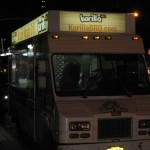 Unfortunately they were out of chicken, so I ended up getting the 'Porkinator' ($7) taco set.  You get 3 taco with double flour tortillas tacos (very handy as a single would have gotten soggy & fallen apart pretty quickly) topped with pickled cabbage, tomato salsa & Korilla's 'special' sauce.  I ended up buying a strawberry Jarritos ($2, a popular Mexican soft drink) too.  I was walking back home then realized that I had been overcharged.  Either the tacos are now $9 (& improperly price on the website) or there was some mathematical error.  I was way too hungry to care.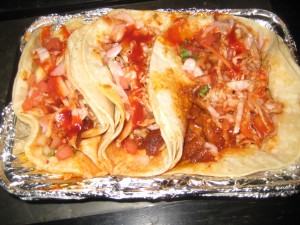 Once I got home, I opened my package & the tacos had traveled quite well (the picture doesn't do them justice).  The BBQ sauce was spicy, but not overbearing, with a sweetness that really appealed to me.  The pork was tender & flavorful.  I really liked the pickled cabbage which gave the tacos a satisfying crunch.  My only gripe was that you really couldn't taste the Monterey Jack cheese.
Needless to say, the tacos didn't last very long, they were good, but nothing to write home about.  If Korilla was a restaurant in the East Village, I would go there (mainly to try the bulgogi & chowsun bowls), but as a food truck, there's no way I would chase them around the city, just not good enough to warrant it.

Comments