Posted on | January 8, 2011 | 9 Comments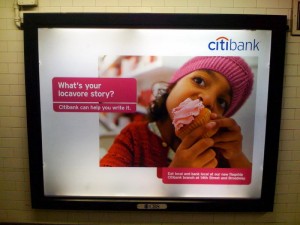 I've been screaming to the Heavens & telling anyone who would listen about my dislike of Butter Lane's cupcakes.  I half expected there to be a backlash due to the fact that everyone seems to love the place.  Personally, I find them to be insanely sweet, not just 'oh that's a bit sweet', but more like 'oh F*CK, my teeth are falling out!'  On the contrary, I found quite a few people who agree with me & today even more anti Butter Lane compatriots came out of the woodwork.
EV Grieve posted a picture of a recent Citibank Poster at Union Square talking about locavores & featuring a child biting into a cupcake.  Naturally in the comments section I weighed in on Butter Lane & a few other commenters agreed!
East Village Eats said… Well, if that Cupcake is from Butter Lane, I'm sure that kid's teeth are going to fall out pretty soon.

Lisa said… I love cupcakes. I don't like the pricey frosted grenades that pass for cupcakes now. Cup-CAKE. NOT Cup-o-FROSTING. You listening, Magnolia and Butter Lane? You need an electron microscope to see the actual dough under those Matterhorns of sugar. Ech.

blue glass said… and she had to go to the bank to take out a loan to pay for it!
Anbyone else not a fan of Butter Lane?
Comments