Posted on | January 22, 2011 | 2 Comments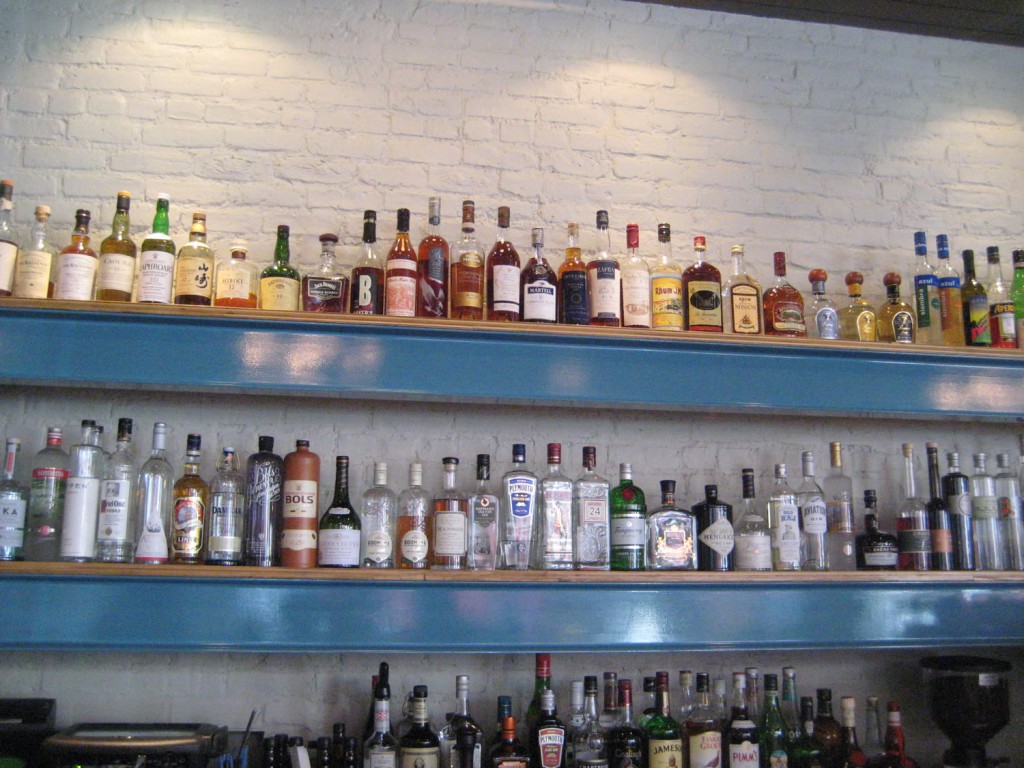 [Looking at the pictures, you might think I mean Liquid Lunch, but trust me, I don't!]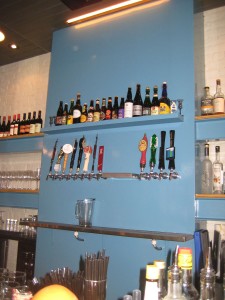 Funnily enough, the first time I came to Vandaag was at lunch, I've somehow managed to post my reviews in reverse order; Dinner here, Dessert here.  It was pretty empty (actually I think that there was only one other person in there), so we took a seat at the bar, smelling the baked goods from the bakery, while the daytime manager told us a bit about the restaurant.  My friend had been there before, so most of this was for my benefit.  The space is large with tables at the back & along the walls.  You almost feel as if they could put more seats in.  There's a lot of booze on the walls & several beers (both bottle & tap) that I had never heard of, but we were more than happy to dive into the unknown.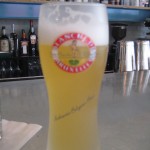 We were stumbling around the beer menu, so the manager gave us a few samples & suggestions.  We tried the Rodenbach, a Belgian beer with a slightly sour taste.  I figured that I wouldn't be able to drink a whole pint of it, so I went for the Blanche de Bruxelles, a Witbier, which was much sweeter & made even better by the 'little kid pissing' on the glass.
We decided to get different dishes so we could try a few of them.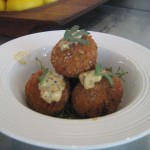 I decided to get the Cured Halibut.  These dainty little morsels looked absolutely amazing served on a rock plate and garnished with fennel fronds & edible pea flowers.  Luckily for us, the flavor matched their appearance; they were salty-sweet & the sprinkles of smoked paprika really worked well.  I liked this dish so much that I came back a few days later to get it again!
Dan had raved about the Bitterballen (slow braised oxtail croquettes), I'm a big fan of oxtail so I was excited about this dish.  It had a very crunchy exterior & the meat inside was densely packed (much more so than a meatball), there was a side of grain mustard, it was simple yet effective, I really enjoyed this.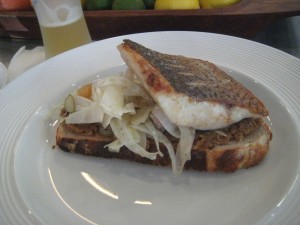 The lunch menu consists mainly of open face sandwiches.  I went for the Crisp Skinned Bass.  The skin was insanely crispy & it was garnished with sliced cornichons and a grapefruit confit which added a nice bit of sourness.  The house made bread did well to soak up all of the juices from the moist fish.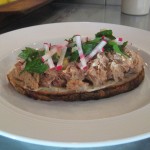 Dan got the Hen Confit sandwich which was garnished with radish & parsley.  There's a lot of lemon & very little mayo in the dish.  Initially I was a bit overwhelmed by this, but eventually I liked this dish (although I preferred my fish).
I was pretty full by now, but we were offered a plate of finger cakes from the bakery (Vandaag does coffee & baked goods from 9am).  It would have been rude to refuse so we manned up & scarfed those down while trying some of the more exotic booze on offer.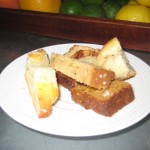 In a moment of lunacy, I tasted the 114 proof Smith & Cross Jamaican Rum.  It basically set my mouth on fire instantly & was possibly the most painful unique drinking experience I've ever had.  In the end we got the Hibiki, a 12 year old Japanese scotch.  Much easier to handle!  I really enjoyed my lunch at Vandaag  as you can see by my other posts.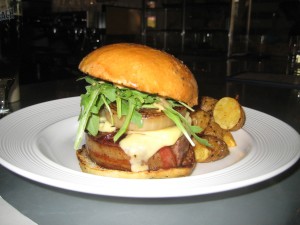 Our bartender finished her shift while we were drinking & sat down with us at the bar to have lunch, she ordered the hamburger & I honestly had to do a double take when it arrived.  This thing was absolutely massive & was wrapped in bacon.  I'm going to have to get that next time!
More on Vandaag here.
Vandaag: 103 2nd Avenue @ 6th Street
Comments