Posted on | January 25, 2011 | No Comments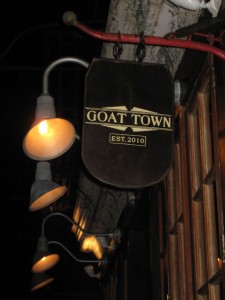 After the awesome New Year's Eve dinner (review here) I had at Goat Town (511 East 5th Street between Avenue A & B), I knew that I had to go back to check out the regular menu.  I recently found out that Gotham is Anglo-Saxon for Goat Town, so I'm guessing that that's where the restaurant gets it's name from.  My brother & I took our Mom there for her birthday.   They've recently added new sign posts outside (pictured to the left).  It was a Thursday & there was quite a line, but we were seated in one of the tiled booths after about 20 minutes.  While I do they they look cool, they are a bit hard on the lower back if you try to lean back too far.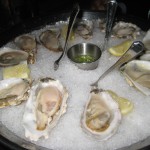 We decided to start with a bottle of Blanc de Blanc since we were celebrating, at $42, it was pretty darn good & didn't last that long.  Based on my recommendation from my earlier meal, my Mom got a dozen oysters.  Unfortunately I can't remember exactly which ones all of them were (Goat Town has a revolving list based on freshness & availability).  She did, however, get the Evening Cove oysters that I had at my previous meal.  These are some of my favorite oysters & you should try them if you can.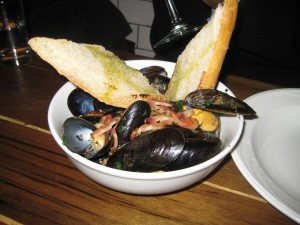 My brother got the Bouchot Mussels which are steamed in beer with Berkshire bacon, mayonnaise (really!?!) & parsley.  The broth was good, but a little on the salty side (due to the bacon perhaps).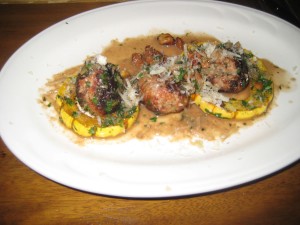 I got the veal meatballs (no longer on the menu) which had delicata squash, a rich sauce, parsley, shaved cheese & nuts.  I was very impressed by this dish.  I had heard good things about it from friends, but this far exceeded my expectations.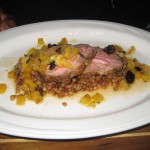 We moved on to pints of the Captain Lawrence Liquid Gold which we both were not too fond of (I'll be sticking to Coors from now on).  He couldn't choose what to get, but in the end decided on the lamb.  I could see the disappointment in his eyes when his entree arrived.  It didn't taste bad or anything, but I think that he expecting something far more hefty.  Although cooked perfectly, it was on the light side which was a bit of a downer.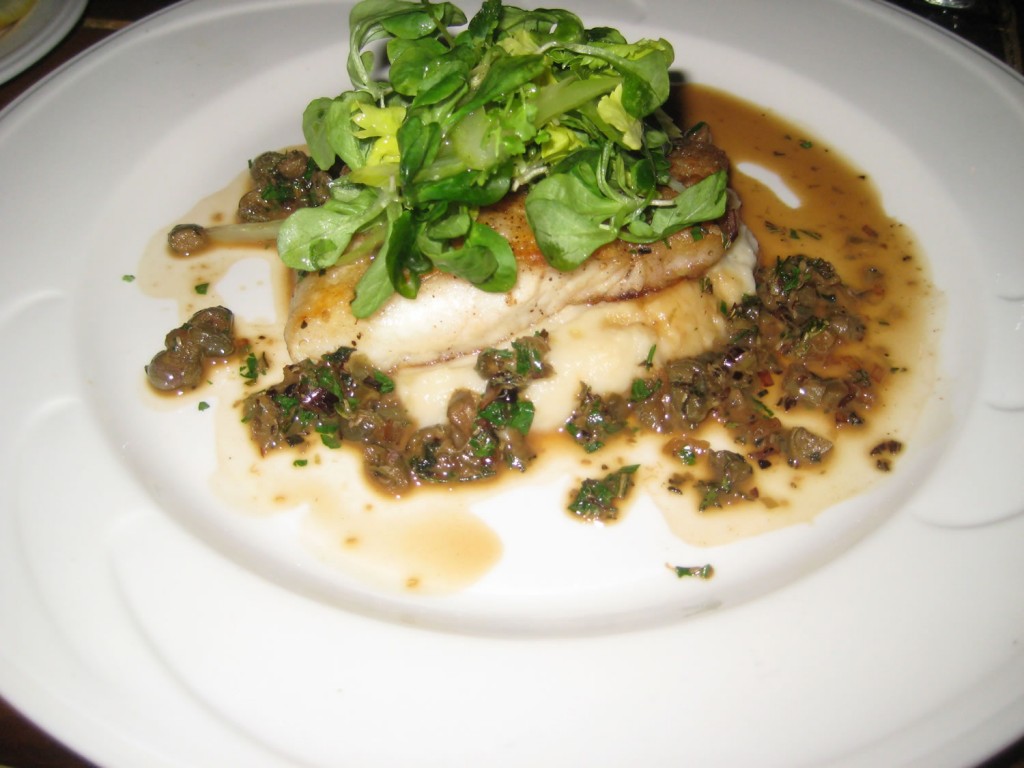 I got the Long Island Fluke 'menuire', served with cauliflower puree, lemon-caper brown butter & a parsley salad.  I've been very lucky with my seafood choices at Goat Town and this was no different.  I thought it was really very good.  I don't eat a lot of cauliflower, but the puree was excellent.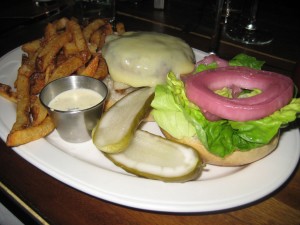 Things start to break down at this point of the meal.  My Mom ordered the cheeseburger medium rare.  When it arrived, it looked great, excellent fries with house sauce, a large beef patty & pickled onions (a nice touch), unfortunately, they overcooked it, twice, the 2nd one being even worse.  Our waiter, Lucas, was really apologetic & took it off of our bill while also offering us a free dessert.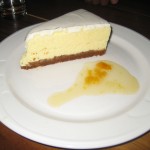 Although my Mom would disagree, the cheesecake here is some of the best that I've ever had & I enjoyed it very much.
Despite the hiccups with our meal, I would (& have) return to Goat Town for food & so should you.  Further Goat Town coverage here.
Comments