Posted on | January 30, 2011 | No Comments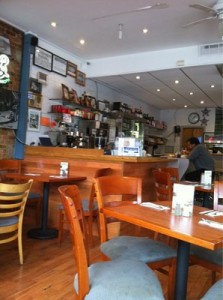 I'm adding this entry because I carry my camera everywhere & insist on taking pictures of any food that I do eat.  I rang in 20011 in Carroll Gardens at Brooklyn Social, a few hours after my epic first meal at Goat Town.  After a lot of booze & a bar crawl through the Gowanus area, we had planned on starting the New Year right, with a disgusting meal at McDonald's (I make a point to never eat fast food & one of the people in our group hadn't been there in 16 years), but luckily reason prevailed & we went to Station Diner (224 4th Ave, between Union St & President St).  It was full of people trying to get some grub before going to bed & us, eating to power through.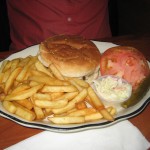 The enormous menu reads like any typical greasy spoon, burgers, eggs & deep fried food featured heavily, which was perfect for us as we were pretty loaded by this point (3am).  I ended up getting poached eggs with corned beef & hash.  This was a drunken person's wet dream; really, really filling & it only cost $7.
Waffles and sausage, cheeseburgers & chicken tenders were also ordered.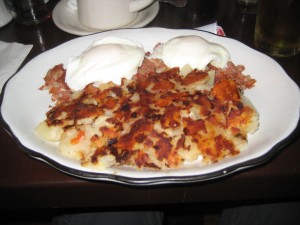 Although we were pretty cross-eyed from drinking, we all enjoyed our late night meal at Station Diner.  Definitely not a destination spot, but if you find yourself looking for some late night food, it's a good bet.

Interior image credit; Yelp (please forgive me)
Comments