Posted on | March 21, 2011 | No Comments
I poke fun at Zum Schneider (107 Avenue C @ 7th Street) quite a bit due to the noise it generates, massive lines, Oktoberfest Madness & the 'popped collar' brunch crowd, but I will admit that I love that place. I live just around the corner on 7th Street & with the weather warming up, it's great to see that the outdoor tables have sprung up.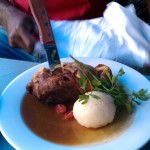 Sitting outside, people-watching while drinking massive amounts of beer & eating off a very meat-inspired menu still remains one of my favorite Spring/Summer pastimes.  I don't know all that much about German beers, but the staff at Zum sure do & are more than happy to explain & help you make a selection off of their extensive beer list.  The Flintstones-sized hunk of meat to the left is their crispy pork shank with a dark beer gravy.  It's a lot of food but absolutely delicious.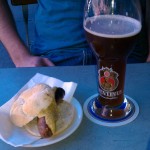 Other favorites include the meat & cheese plate (reviewed here) & the Weisswurst (not pictured); two boiled Bavarian white sausages with sweet mustard & a Brezn (pretzel), it may sound simple, but it's really damn good. I recently got the Gebackener Camembert; Baked camembert w/ lingonberry jam, fresh roll & house salad. The jam itself is worth the $11, amazing! If you're looking for a place with a great beer selection & hearty food, Zum Schneider totally gets my seal of approval.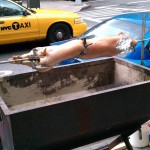 I'll just throw this in there too, if you hear that they're having a pig roast, go… You can thank me later!
Comments