Posted on | May 12, 2011 | No Comments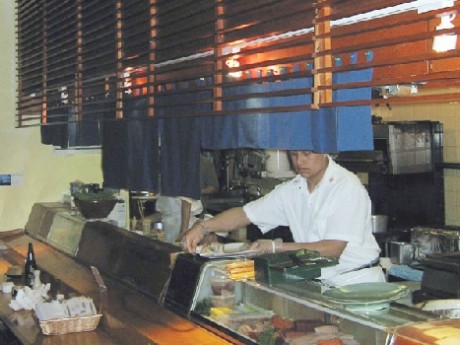 I've never been shy about how much I love Takahachi, it's by far my favorite spot in the East Village when I'm craving some fresh raw fish.  I've been going there pretty much ever since I moved to the East Village 10 years ago & it's been the go to sushi spot for me & most of my friends.  Recently, however, I've been on a major sushi kick & have been spending more time than usual there.  Even after 10 years, they've found a way to keep the menu exciting, no small feat.
One of the things that I love about Takahachi is that they have daily specials, not a few, but a full page of specials that rotates depending on what's fresh & available.  I've been ordering a lot more of the cooked food from this menu.  Recently I tried Saba no Miso which is mackerel simmered in a miso broth, it was absolutely amazing!  We had Shishito Peppers the same day, something I've never heard of.  They were a little bitter for my taste, but I can understand the appeal.
On another recent visit, I ordered the Fatty Tuna Sashimi special.  It was only medium fat, cut from the belly, but it literally melted in your mouth.  It was so good, in fact that I brought some to my parent's house for Mother's day dinner as an appetizer, but it ended being the best thing we had all night!  So next time you're at Takahachi, check out the specials & try some of the cooked food, you might be pleasantly surprised!
Takahachi is 85 Avenue A at 6th Street
Internal picture via Immaculate Infatuation.
Comments