Posted on | July 14, 2011 | No Comments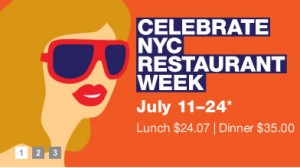 Restaurant Week (July 11th-24th, so technically not a week) is normally at time when I get giddy like a kid in a candy store, excited by all the possibilities of food I could otherwise not afford.
$24.07 gets you lunch & $35.00 will mean a full 3 course dinner, what's not to love?  So, looking at the Restaurant Week Website & choosing East Village as a neighborhood, you'll probably be as angry as I am; 1 restaurant.  I've never been to Apiary so I cannot comment on the quality of the food there (I have heard good things, however), but where are the rest of the East Village restaurants that I've come to love?
Ok, this is a bit of a rant, but I think that we should have more choice in the neighborhood. If you search the Lower East Side, Union Square & Noho areas, there are plenty of options.  It's not a far walk, so hopefully some of us in the East Village will enjoy the food there.
Just Sayin'.
Comments