Posted on | July 31, 2011 | No Comments
Lunch can be somewhat boring in the East Village since there aren't really that many good places that open & serve food before 4pm (I often find myself returning to the same places over & over again) which is why I was excited that The Brindle Room is open for lunch.
I had recently watched Food Curated's awesome video on what makes the burger there so good; deckle fat.  We arrived around 4:15, right between the lunch & dinner crowds.  The Brindle Room opened in May 2010 & is a small space (it was formerly home to Persimmon) with maybe 35 plus a small bar.
We thought that there was a full menu, but they've recently been offering a smaller menu between services to give the kitchen staff a bit of a rest.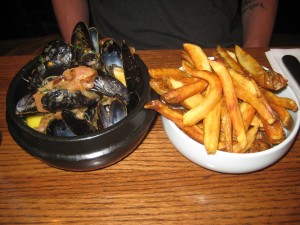 Luckily I was able to convince them to make me a burger.  We were the only people in the restaurant & the waitresses were setting the place up for dinner, so the service was polite, but not very attentive. The Mussels with fries were an absolute steal at the Happy Hour price of $5.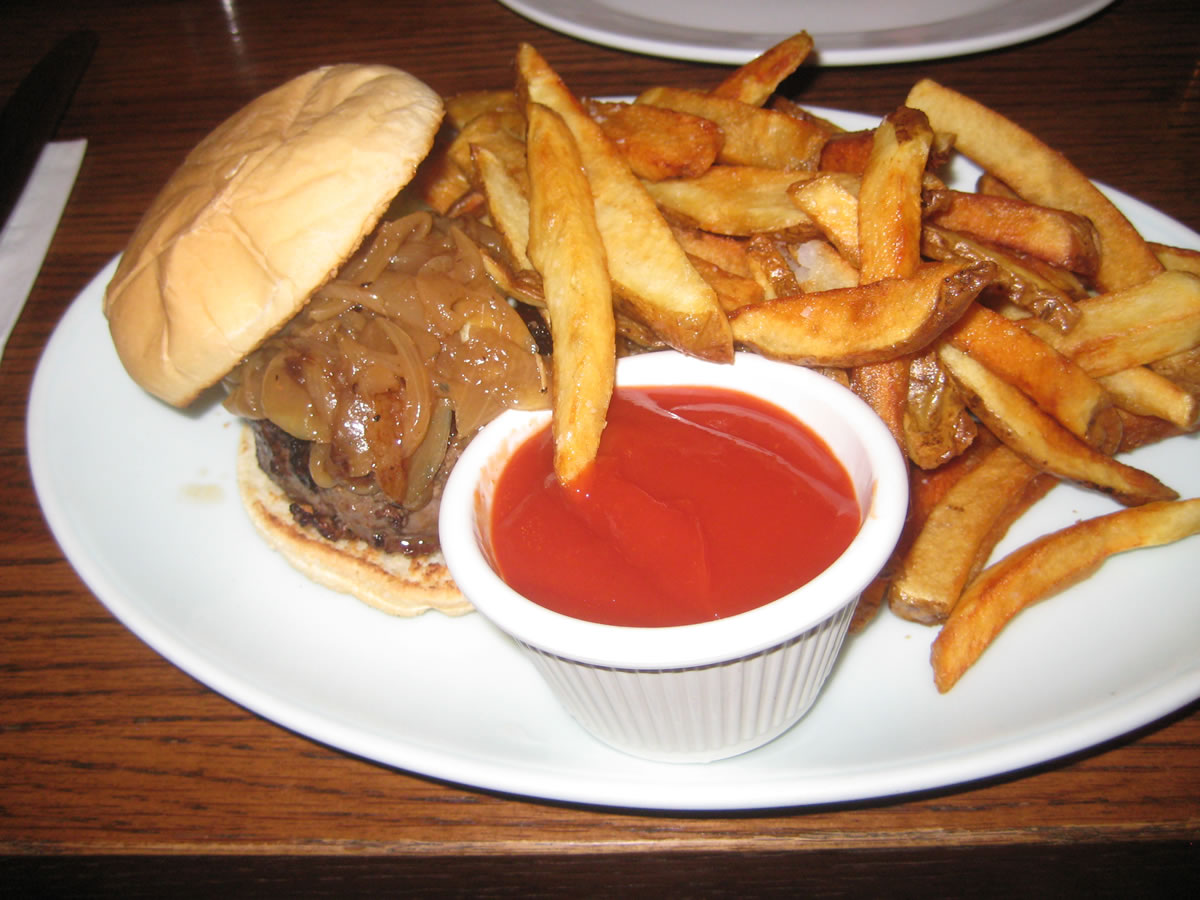 Obviously, I had come for the burger ($12) which I ordered with blue cheese.  After watching the video with chef Jeremy Spector's vivid description, I felt I already new what to expect.  I'm not normally a fan of the hard sear on a burger, but the first bite was amazing!  The burger was crazy juicy (deckle fat yet again!) & the rib eye blend gave it loads of flavor.
I chose blue cheese as a topping which was good, but I think it masked some of the subtle flavor of the burger, in hindsight, I should have gotten American.  The caramelized onions gave the burger a great sweetness & the hand cut fries were really good.  I also got house-made mayonnaise which was really good (beats the stuff out of a jar hands down!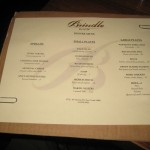 Honestly, as a first impression with a limited menu, The Brindle Room was pretty damn good!  There are some items on the dinner menu that I'm looking forward to ordering when I return. In particular the Steak Tartare, the Chicken Liver Mousse & the Fried Chicken.
The Brindle Room: 277 East 10th St. between 1st Avenue & A.

Comments