Posted on | December 29, 2011 | No Comments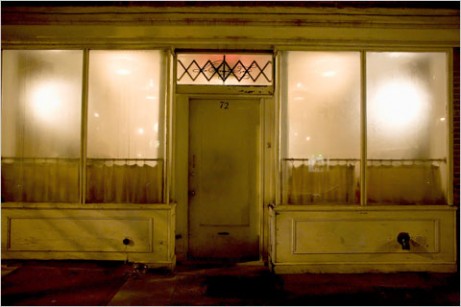 Named after a small, largely unknown, area near DUMBO, Vinegar Hill House can be pretty hard to find.  It's quite a walk from the York Street F stop, so I decided to take a cab.  Even my driver had a tough time finding the place.  Once I got there though, things got even more confusing as there's no sign (just a number).  Finally I found my way in & headed to the private dining room downstairs.  The place looks great; rustic with the feeling of an old farmhouse & an awesome fireplace.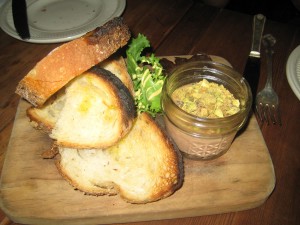 There were around 18-20 of us, so we were ordering off of the Prix Fixe Menu ($55, booze extra).  I dove right into the Chicken Liver Mousse which (luckily) was put down right in front of me.  Topped with pistachio & served with thick cut bread, it was an excellent start.
There was also Squid Stew with cranberry beans, cauliflower, wuhammara & walnuts. We also had a salad with ranch dressing.  Now on to the main dishes.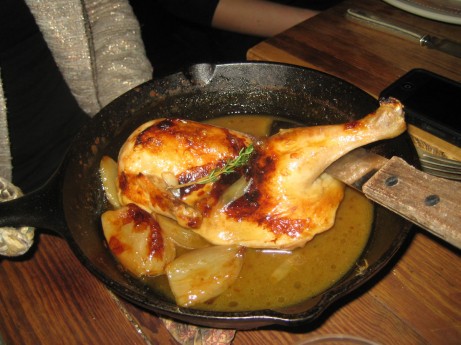 Cast Iron Chicken
Pretty much self-explanatory. Half a chicken roasted & served in a cast iron skillet. Topped with rosemary & sitting in a delicious bath of pan drippings & onions.  A winner.
Red Wattle Country Chop
The Red Wattle is a heritage breed of domestic pork & despite the menu, this was served on top of sauerkraut instead of cheddar grits. Served on the rare side (notice the pink in the picture, it won't kill you!) with a lovely crisp char on the skin.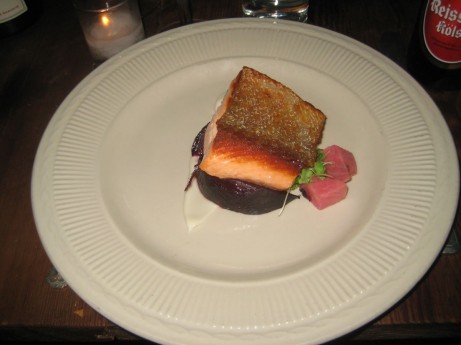 Steelhead Trout
This is the dish that I ordered & while I was staring longingly at the chicken & pork, I did enjoy it.  A little on e the small side, but with an excellent sear , I was impressed but still hungry.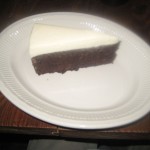 We moved on to dessert: Guinness Chocolate Cake. Guinness+Chocolate+Cake=Awesome, even Pythagoras could have figured that out.  I spent most of my time eating the icing which was sweet & laced with lemon rind.  I totally approve.
The meal ended and people started leaving, but the core group of alcoholics revelers stayed behind to drink whiskey by the fireplace.  The staff were totally cool & didn't rush us.  Despite having a heck of a time finding the place, I'm really glad I went.  Good food and an awesome atmosphere; Bonus.
Vinegar Hill House: 72 Hudson Avenue
Exterior image via NY Times

Comments