Posted on | March 3, 2012 | 1 Comment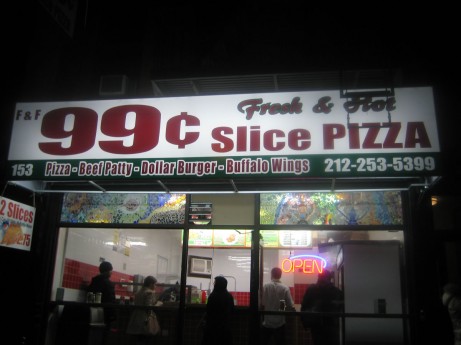 An article last December by the New York City Economic Development Corporation (coverage by EV Grieve) showed that the 10003 zip code had the highest concentration of pizza shops in New York with 33.  Needless to say, we're pretty spoiled for choice when it comes to pizza with excellent shops like Sal's, Two Boots, Gruppo & South Brooklyn Pizza.
99 cent pizza shops seem to be popping up at an alarming rate here in the East Village.  There's Mamani Pizza on Avenue A, two 2 Bros. Pizza on St Marks, one on 2nd & B & most recently a shop opened up on Avenue C between 9th & 10th.
I guess that they have their place, but I really can't fathom why we need so many in such a small area.  Personally, I'd take a great $3 slice over 3 at a discount.  Am I correct in thinking that the neighborhood is over saturated?  Post your comments below.
Comments