Posted on | March 16, 2012 | 2 Comments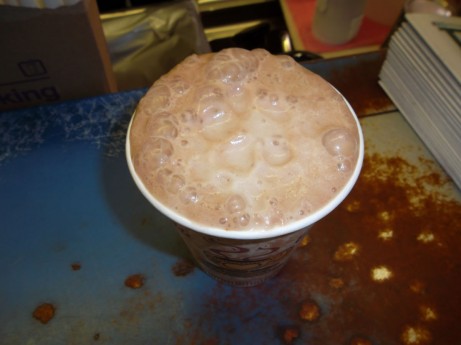 For some reason I got a few tweets yesterday informing me that it was 'National Egg Cream Day' & that I should visit Ray's Candy Store or Gem Spa in the East Village to partake.  With a name like 'Egg Cream', I immediately assumed that both ingredients were in the drink which completely turned me off.  After reading Neighborhdr's blog post, I learned that the drink contained neither of these.  I'm always eager to help out local businesses & Ray's is just a block away from me so I headed over to see what all the fuss was about.
Made from flavored syrup, Milk and Seltzer, it comes in about 10 flavors.  I got the chocolate which I was told is the most popular. It's a cold drink & is mostly made up of seltzer with the milk & syrup adding the flavor.  I'll have to admit that it was pretty refreshing.  I doubt I'll be having it regularly, but I could see myself strolling around the park with one this summer.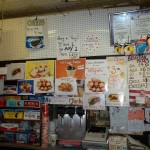 I couldn't help taking a look at the extensive (if somewhat disorganized) menu that features everything from cappuccino & smoothies to banana splits & chili cheese dogs.  I've heard good things about the beignets, so I ordered a dozen.  They're made to order & arrive steaming hot.  I brought them back to my local bar & they were pretty well received.
More on Ray's Candy Store
Ray's Candy Store: 113 Avenue A @ between 7th St. & ST Marks
Comments