Posted on | April 6, 2012 | No Comments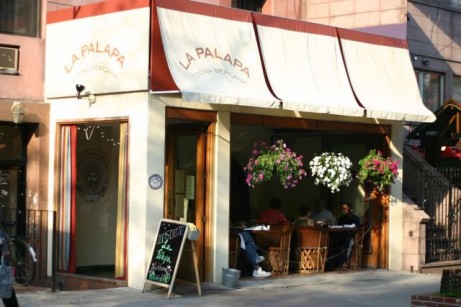 La Palapa, a Mexican restaurant renowned (by me) for excellent Margaritas is launching a special menu next week.  Chef Barbara Sibley is serving 6 dishes featuring mole (mole comes in several varieties & colors; Poblano, Oaxaca, San Pedro Actopan, see Wikipedia for more info) will be on offer for a week starting on Easter Sunday.  As per the press release:
Mole comes in many forms and colors, black, red and green to start. So instead of coloring eggs this year Chef Barbara Sibley is creating a burst of color on every plate with her complex moles. So starting on Sunday the 8th she will start offering a menu that focuses solely mole in its many tones.  From warm and complex to bright and citrus-y ,  a rainbow of mole will be featured. Barbara has made sure that every step of your meal has been blessed by mole- from soups to eggs and from chops to ash tamales; this shall be quite transcendent meal.

So please come by to this most holy event and rejoice in all things mole.

Sopa de Mole de Olla de Rabo
Mole in a pot or "olla" oxtails in a heartwarming tomatillo and serrano broth with spring vegetables, corn, potatoes and green beans

Chamorro en Mole Rojo con Ajonjoli y Chile Pulla
Slow braised pork shank with a smoky red sesame and chile pulla mole

Costillitas de Cordero en Mole de Frambuesa
Grilled baby lamb chops in a wild blackberry mole from the hacienda de Vista Hermosa

Enmoladas Oaxqueñas
Mole turnovers of fresh corn tortillas stuffed with grilled shrimp and sweet plantains in black mole from Oaxaca made with 26 magical ingredients

Pollito en Pipián Verde con Tamales de Ceniza
Slow baked chicken in green pumpkin seed pipian mole served with fresh corn "ash" tamale

Omelet de Pascua: Hongos y Mole Rojo
Three farm fresh egg omelet stuffed with sautéed mushrooms and queso chihuahua topped with a rich red mole de Morelos.
Personally, I'm going to have to get the soup, I'm a sucker for oxtail & booze.  While it's great to have new items on offer, don't shy from ordering from the regular menu which it excellent (try the Cochinita Pibil).
La Palapa: 77 Saint Marks Place at 1st Avenue
(212) 777-2537
Comments