Posted on | August 25, 2012 | No Comments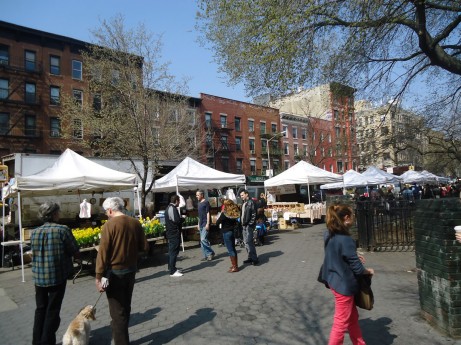 I received an email a few days ago that Veselka Bowery will be taking on Hearth Restaurant & Terroir Wine Bar in a local version of Food Network's popular Iron Chef.
As per the release:
Greenmarket proudly presents Tompkins Square Greenmarket Iron Chef: Veselka Bowery versus Hearth Restaurant / Terroir Wine Bar.

Come see two culinary cornerstones of the East Village in the hot seat as Veselka Bowery and Hearth Restaurant / Terroir Wine Bar face off to claim the title of Tompkins Square Iron Chef.

Each chef has just an hour to transform a "mystery basket" of market ingredients into a delicious dish. Traven Rice of The Lo-Down blog and our esteemed panel of judges will crown a winner, and limited samples will be available to the public.

Sunday, Sept 9 1-4pm
Tompkins Square Greenmarket: 7th St by Avenue A
About our competitors:

Veselka Bowery is the newest incarnation of an East Village institution. Begun in 1954 as a small candy store, Veselka has since transformed into a destination for authentic, homemade Eastern European food in an underground atmosphere.

Hearth Restaurant & Terroir Wine Bar serve food rooted in the modern traditions of the American kitchen, with influences from their Italian heritage. The hearth is the home and they take this sentiment to heart, aspiring in all manner of ways to exceed expectations.

About Tompkins Square Greenmarket:

Tompkins Square Greenmarket, one of 54 farmers markets operated by the Greenmarket program of not-for-profit GrowNYC, brings local farmers, bakers, and a fisherman to the East Village every Sunday year round. Since 1976, the Greenmarket program has worked to conserve farmland and ensure a continuing supply of fresh, local produce to New Yorkers.
image via cityvillager
Comments