Posted on | September 12, 2012 | No Comments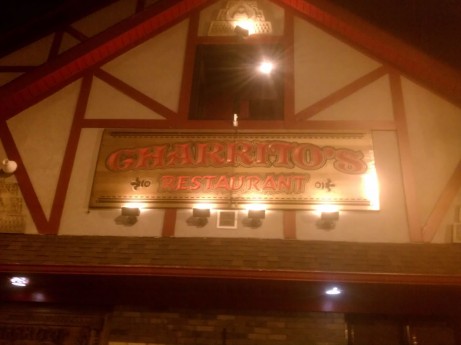 I haven't been ashamed to say that I rarely leave the East Village, so a post about a Mexican restaurant in Weehawken, NJ is somewhat out of place here. A friend recently moved over there and the fact that I had a free car ride & the promise of good Mexican food was enough to lure me out there.
There were 6 of us in total and we had made a reservation as it tends to get busy.  We were initially shown to a large table inside, but the weather was nice enough that we decided to sit in the outdoor patio overlooking the New York skyline (the restaurant is perched on a cliff, offering amazing, un-obscured views).  The staff were nice enough to accommodate us, but put us on what was basically a table for four.  Needless to say, things were a bit cramped. The intermittent blast of exhaust fumes from the cars in the parking lot didn't help either.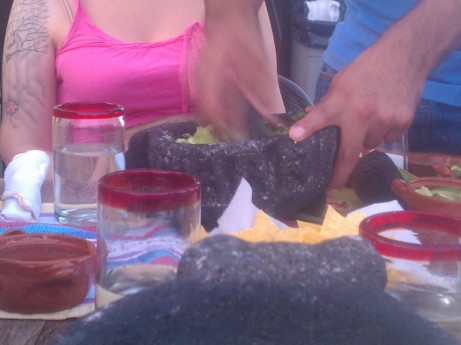 Putting that aside, we began by ordering drinks — lots of tequila was involved.  One of the signature dishes is the guacamole, made to order at your table in a Molcajete, a traditional Mexican stone mortar & pestle.  There was nothing fancy about the guacamole here.  Lots of avocado, onions, tomato, cilantro & a few other ingredients that I couldn't see from across the table.  We also ordered chips & queso, but the guac was the real star.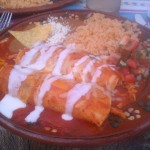 The dinner menu is quite extensive and packed with Oaxacan dishes. I opted for the chicken Enchiladas Rancheras which came with the best refried beans that I've ever had.  I'm used to the out-of-the-can version that really tastes of nothing, but this was something totally different. It was spicy without being overpowering, I really enjoyed this dish.
Tacos Al Pastor & were also on the menu.  Again, nothing complicated at all which is par for the course at Charrito's.  The most perplexing dish was the Molcajete, an insane amount of food served with cactus, vegetables & three types of meat.  When it arrived at the table everyone did a double-take.  It could have served two if not three.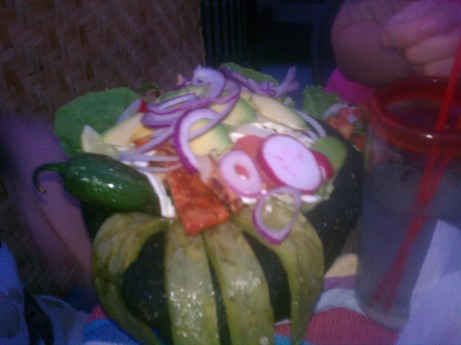 I can honestly say that the food at Charrito's was well worth the schlep to New Jersey and if given the opportunity (car ride), I'd go back in a heartbeat.
Charrito's Restaurant: 974 JFK Boulevard East, Weehawken, NJ

Comments