Posted on | November 14, 2012 | No Comments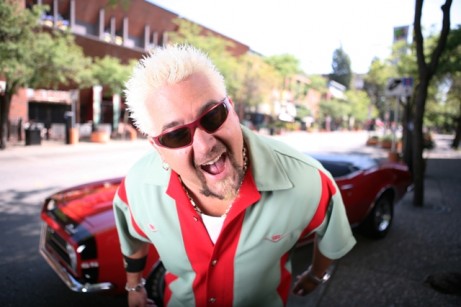 I woke up today to find Pete Well's NY Times Dining Section review of Guy Fieri's Time Square restaurant featured heavily in my Twitter feed.  My dislike of 'Chef' Fieri (real name: Guy Ramsay Ferry) is well known to most.  Maybe it's the stupid haircut, the backwards glasses, his choice of adjectives, his inability to eat with his mouth closed or his general douchebaggery, but I just have it in for him.  So, you can imagine that I read the scathing review of  his 500 seat catastrophe with some delight.
In the form of 50 questions (trust me, I counted them) & a final 'Thanks', Mr. Wells systematically demolishes the restaurant noting "how very far from awesome the Awesome Pretzel Chicken Tenders are" and asks if he has tried "that blue drink, the one that glows like nuclear waste? The watermelon margarita? Any idea why it tastes like some combination of radiator fluid and formaldehyde?"
I honestly think this is one of the best (or at an absolute minimum, the most entertaining) restaurant reviews & I hope that it'll end up in Dianne Jacob's next edition of Will Write For Food.  Maybe it's a bit over the top, but odds are that Mr. Wells hit the nail on the head in regards to the food they serve.  All that having been said, I do applaud his show Diners, Drive-ins & Dives which brings to light restaurants & restaurateurs serving honest food that we would otherwise never hear about.  Even in my contempt for the man, there's a silver lining.
Perhaps Anthony Bourdain put it best during his roast at the NY Wine & Food Festival: "You dropped a 500-seat deuce on Times Square."
I can't wait to see what Mr. Fieri Ferry has to say about this.
Update: Check out Helen Rosner's (Saveur) take on Fierigate.
Comments