Posted on | November 24, 2012 | No Comments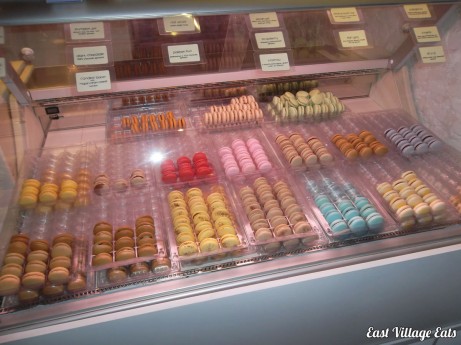 I really don't know that much about macarons besides that they're sweet and (if done well) delicious, so I was pleased when the team behind Macaron Parlour invited me to a preview event.  Opened by husband and wife team Christine Ha & Simon Tung (both with a baking background), they started out at the Hester Street Fair in 2010.  This is their first brick and mortar shop & is located in the former Chocolate Library space.
The first thing that hits you is the display with an insane selection of macarons & the sparkling white interior, they definitely did some work to transform the space.  Behind the counter is a full kitchen-classroom where they conceive  test & make their creations as well as offering classes.  I was blown away by the variety of flavors available (at the time, 20).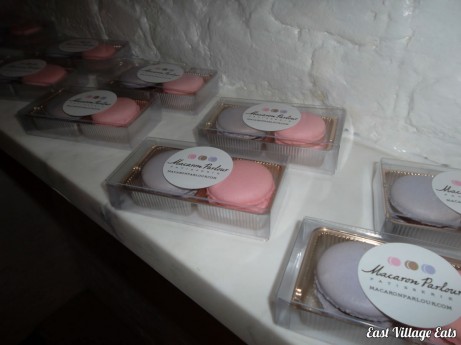 We had carte blanche to try any that we wanted & while I started eating whole macarons at the start, I quickly realized that if I planned on going through anywhere near the entire lineup I better witch to halves.  Personal favorites were the Candied Bacon with Maple Cream Cheese (insane) & the Red Velvet.  Interesting flavors included the Earl Grey and Pistachio varieties.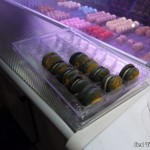 It wasn't until they brought out their latest test flavor that I realized the crazy possibilities.  Wait for it – The Cheeto Macaron.  There was a collective gasp among the people there & some confused looks (myself included), but I was blown away by the flavor.  It wasn't 'overly cheesy' & the Cheeto flavor went well with the sweet elements.  I though the Cheeto dust topping was a nice touch.
They don't stop at macarons & offer a selection of baked goods including Raspberry Croissants and Cookies, just in case macaroons aren't you're thing.  They're a bit steep at $2.50 a pop, but you can really taste the amazing ingredients & effort put into each one.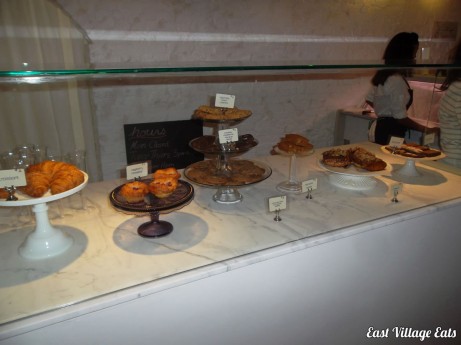 The staff were extremely nice, everything I tried was great (I'm telling you, try the Cheeto Macaron is it's available) and it's a really cool space.  I think that Macaron Parlour is an excellent addition to the neighborhood.
Macaron Parlour: 111 St. Mark's Place
Comments