Posted on | November 26, 2012 | 1 Comment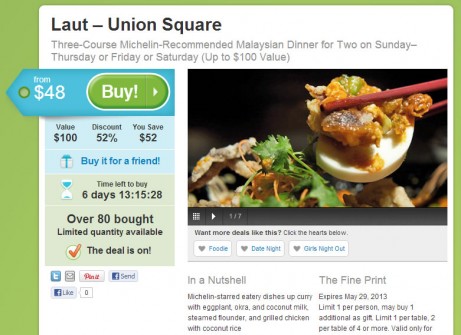 I'm a sucker for those discount deal websites.  Yes, I get a dozen emails from them a day, but every once in a while I find something that I'm genuinely interested in.  As you can imagine, I lean towards the deals for restaurants in my area.  I've bought loads of these things and yes, plenty have expired without me using them, but I've had bad meals, good meals & a few exceptional meals using these coupons.
I was intrigued by a deal that I received today, $40 for $100 worth of grub at Laut in Union Square. A 52% discount? Great. Malaysian food for two? Sweet, I'm feeling adventurous! Union Square? I live right there, sign me up!
I try to do my due diligence before buying one of these deals; I check the expiry date, look through the small print & most importantly I check the menu to see if I'd like the food.  That's where I found a little snag.  The $48 for $100 worth of food line depends on a maximum value of $30 for entrees, there are none.  The most expensive dish is $20, which turns the value of the coupon to $80 tops.
I find myself wondering if this is a recurring theme with these discount sites (There are loads, I'm only using Groupon as a scapegoat due to timing).  Isn't the customer's perception of value thrown out the window if the 'I'm getting x for y' equation has incorrect variables?  Maybe I've been going at this the wrong way; The lure for me is a big discount. Is this false advertising?  Or maybe the true value is checking out a new restaurant, eating some unique food (I've never had Malaysian) & the satisfaction of handing your server a printout when the check comes & saving a few bucks.
Do you use these sites differently?  Has anyone had a coupon horror story? I'd like to hear your thoughts.
Comments