Posted on | January 2, 2013 | 1 Comment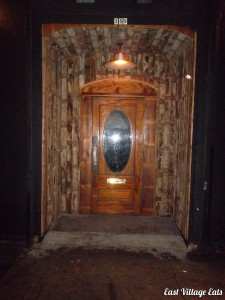 Hidden behind a unique wooden door lies what I can only describe as the Holy Grail of Meat.  Several weeks after my visit to Daniel Delaney's pop-up BrisketLab (more on that awesome day here), they've opened their first brick & mortar location in Williamsburg.  We had pre-ordered 3lbs of meat, so we were guaranteed to eat (they are open from 6:30 till they run out), but we decided to arrive early nonetheless.  We managed to snag a large table for the four of us which was lucky as the place filled out really quickly.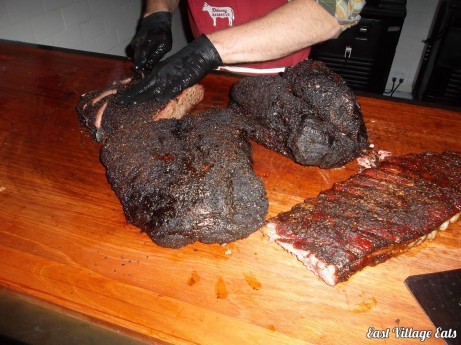 The setup is basic: a small bar serving soft drinks (it's currently BYOB), a line to the good stuff in the back & several different sized tables.  Once you get to the head of the line you select your meat by the pound which is steaming hot & cut to order (you can choose fat or lean, or 50/50).  Luckily for us they had just begun to make pork ribs, so we made sure to try some out.  Orders come with ample bread, raw onion & pickles but there are rotating sides available.  On our night it was potatoes & coleslaw.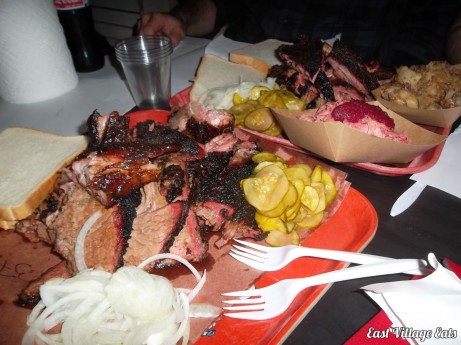 There aren't plates as such, but you get a tray with small containers & plenty of butcher paper.  Between the 4 of us we had ordered a lot of food.  I quickly realized that I prefer the fatty cuts of brisket, but don't get me wrong; it's all good.  The pork ribs were a total surprise & were delicious, literally falling off of the bone.  We all realized pretty quickly that we should have ordered more ribs.
In all, a really good meal.  The ribs were a welcome addition as I had been expecting brisket only.  I'd advise that you get there early, just so you can get a good seat.  Coming hungry is also advised because the food is filling (even though I did end up with plenty of leftovers).  Make sure you grab some beers at your local store as nothing goes better with ribs than an icy beer.  We also had red wine at the meal which paired pretty well also.  BrisketTown is well worth the trip out to Williamsburg.
BrisketTown: 359 Bedford Avenue

Comments