Posted on | February 9, 2014 | No Comments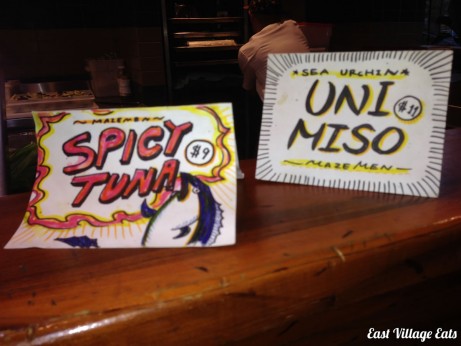 A friend had been telling me about this place for a while —  I rarely shop at Whole Foods & had never been to the food court upstairs, but it seems that I have been missing out on a whole lot. Started as a pop-up in the back of a brooklyn bar, Yuji has been pushing the boundaries of ramen with experimental flavors for nearly two years.  They specialize in Mazeman which is just like your typical ramen, minus the broth, but they do have a Shoyu option for traditionalists.
The regular mazeman menu includes Salmon & Cheese (not so sure about this, but it's probably delicious), Bacon & Egg and Miso Roasted Vegetable.  Once I saw the Uni (Sea Urchin) Miso, it was a no-brainer.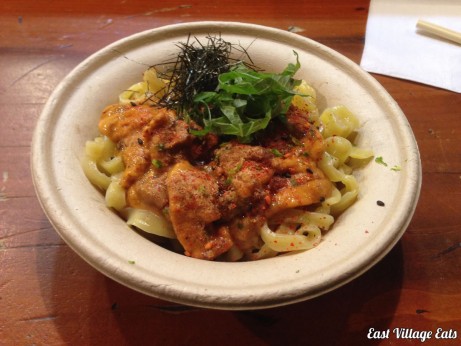 Honestly, I could eat sea urchin all day long, every day of the week.  Some people aren't into the texture, but I can't get enough of the stuff.  I was really impressed by the dish; This is my first mazeman & I had worried that it would be too dry, but the creaminess of the sea urchin was perfect.  My only real gripe with the dish was the bowl it was served in.  I'm a notoriously slow eater, so towards the end of my meal, the noodles were sticking to the cardboard (not sure what else to call them) bowls.  Probably not a problem for people who eat at normal speed.
If you're looking for a massive, filling meal (which is normally the case with ramen), this isn't the place for you.  The portion sizes are rather small & the lack of broth (if you order the mazeman) might leave you a bit peckish.  From a flavor perspective, Yuji Ramen totally gets my seal of approval, I'll be going back to get the Bacon & Egg mazeman.
Yuji Ramen: 95 East Houston Street, 2nd floor mezzanine

Comments