Posted on | February 22, 2014 | No Comments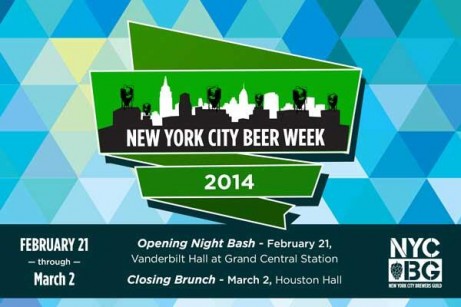 As if Restaurant Week wasn't enough to deal with, we have ten days of great beer events & specials going on all over the city.  Hosted by the New York City Brewers Guild, this is an excellent opportunity to support local beer.
the 6th Annual New York City Beer Week will bring together all 16 NYC craft breweries, nationally and internationally renowned breweries, over 100 venues with hundreds of events, celebrity chefs, and acclaimed restaurants for the premier craft beer spectacle of the year.
East Village (*and surrounding areas) participants include:
5 Napkin Burger*: 150 East 14th Street
Cooper's Craft & Kitchen: 87 2nd Avenue
Good Beer: 422 East 9th Street
Hearth: 403 East 12th Street
Jimmy's No. 43: 43 East 7th Street
Paulaner-Brauhaus NYC*: 265 Bowery
Proletariat: 102 St Marks Pl
Swift Hibernian Lounge: 34 East 4th Street
Terroir: 413 East 12th Street
Interactive map with all participants here.  Further information on Beer Week here.
Comments