Posted on | March 5, 2014 | No Comments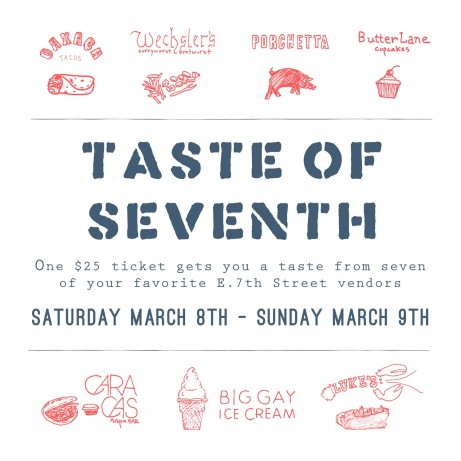 Looks like it's that time of year again!  Taste of Seventh is upon us & the organizers have upped the ante with seven of my favorite restaurants on East 7th street participating:
Taste of Seventh is a weekend food festival (March 8-9th) for those who love sampling a little bit of everything all on the same (best) block! Folks who live in the hood, those traveling from other hoods and those who just love to eat—this is the best reason to visit us this March.

Team 7th Street includes:

–Luke's Lobster, an East Village OG since 2009 now with six NY stores, one truck and a Park Slope location on the way, serving a Maine-style, half lobster roll;

–Caracas Arepa Bar, straight from Venezuela with New York temperament, serving La Mamasita Arepa with grilled mushrooms, roasted corn, sweet plantains and the works;

–Porchetta, one of Time Out New York's 100 Best Dishes, offering their miniature traditional Italian roast pork sandwich with aromatic, crispy skin;

–Wechsler's Currywurst, a temple to German sausage, serving pork bratwurst with curry ketchup and fries;

–OaxacaTaqueria, celebrating a Mexican city rich in food culture, serving a mini burrito;

–Butter Lane, teaching the world how to bake perfect cupcakes, serving one of their six favorite cupcakes;

–Big Gay Ice Cream, the team that made old-fashioned soft-serve ice cream unique with glamorous toppings, serving the Apple Gobbler, a vanilla sundae with grahams, bourbon butterscotch, apple butter and whipped cream
At $25, this is an excellent opportunity to sample some great food.  Tickets Available HERE.
Check out my coverage of the 2011 event here.
Comments