Posted on | April 19, 2014 | No Comments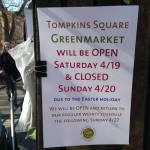 Due to to Easter Sunday tomorrow, the Tompkins Sq. Greenmarket will be held today during regular hours (9am-6pm).  They will move back to Sunday next week on the 27th.
Be sure to check out the two newest vendors: B&Y Farms and Bread Alone.
Tompkins Square Greenmarket: Avenue A at 7th Street.
Comments