Posted on | March 18, 2010 | 2 Comments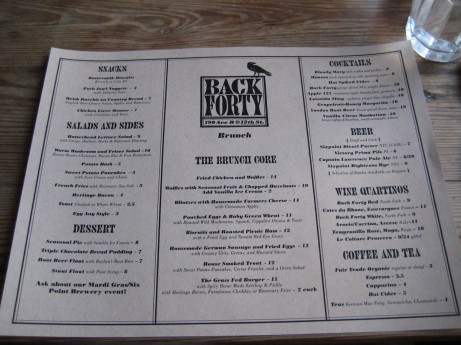 So I'm sitting (drinking) at my local watering hole (7B) a few Sundays ago, minding my own business & a friend asks me if I wanted to go to brunch.  I said no, because I was more interested in getting hammered, but then he uttered 3 magical words; Pork Jowl Nuggets.  Needless to say, moments later 4 of us were running down Avenue B towards Back Forty.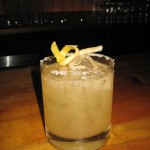 It was a really nice day outside & the place was packed, but we didn't have to wait that long for a window-side table right by the front door.  Our server was perhaps the most enthusiastic waiter that I've ever encountered.  You could tell that he just loved food & really believed in what they were serving there…  Obviously we started with drinks (I double-fisted) while we looked through the rather brief menu.  Just classics here & I could have ordered & been happy with any of the items.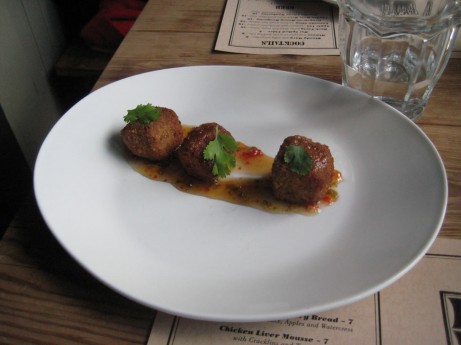 Pork Jowl Nuggets
Amazing, really damn amazing!  I had expected some McJowl sized nugget, but these were small, tender, moist & flavorful, that must have been one happy pig!  It was served with a spicy & tangy sauce.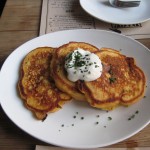 Sweet Potato Pancakes
Sweet Potato Pancakes with Sour Cream & Chives.  Sweet potatoes make everything better!  It was a savory-sweet dish but my mind was still reeling from the nuggets.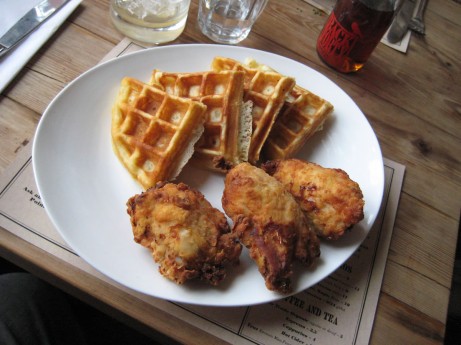 Chicken & Waffles
Ever since going to Roscoe's in LA, I've been a fan of this combination.  Again, savory-sweet (I added plenty of syrup).  The buttermilk fried chicken made this dish & the portions were massive.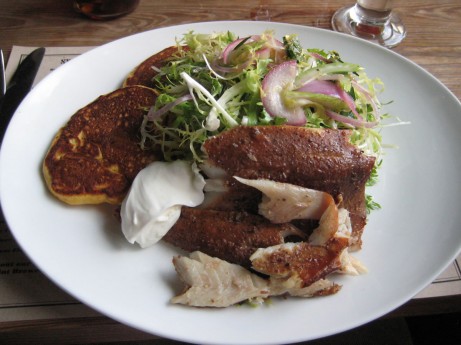 House Smoked Trout
I respect any restaurant that does their own smoking & I don't get a chance to eat smoked fish that often, so this dish was a win-win.  Served with sweet potato pancakes & a salad.  There was a nice smokey flavor that wasn't too overpowering.
Some of the other dishes that we ordered were the Ham & Eggs and the Sausage, Egg & Grits.  Both good in their own respect.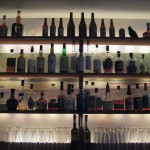 By now the brunch service had ended & we were the only customers left.  In a further show of 'awesomeness', the staff let us stick around at the the bar while they prepared for dinner (Bourbon selection = Amazing!).  Needless to say, I really enjoyed my meal at Back Forty & I recommend that you try it out for yourself!
Further coverage of Back Forty here.
Back Forty: 190 Avenue B @ 12th Street


Comments