Posted on | April 10, 2010 | 3 Comments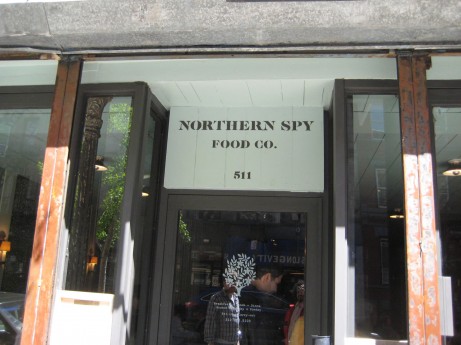 I'm literally reeling from my visit to Northern Spy Food Co. (511 East 12th Street between A & 1st Avenue) a few hours ago.  This is by far the quickest 'plate-to-blog' update yet!  I've been wanting to go here for a long time & finally found someone else that was interested as well.  Specializing in local & sustainable ingredients, the restaurant serves food all day long (breakfast to dinner) & has a small market in the back selling many of the items that they serve.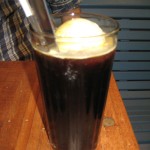 With the weather being so nice we were worried about the place being packed.  It was rather busy, but luckily we were seated immediately.  The seats are a bit cramped in my opinion, but I realize that this is a small restaurant in the East Village & I knew the food was well worth it.  I started with a coffee, but Troy ordered the Coffee Float.  Totally not my cup of tea (I don't like floats at all; in any way, shape or form.  Maybe this one will change my mind!), but he really liked it.  Troy ordered the home-made Biscuits & Jam which I forgot to snap.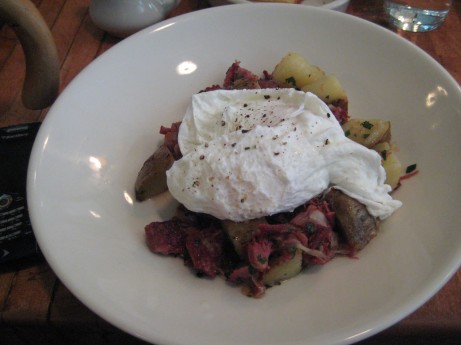 I got the Corned-beef Hash after Troy recommended it & damn were they good!  I've never had corned brisket before & you can really taste the difference.  It was so good that I spent most of my time pushing the potatoes out of the way (I'm not big on veggies).  The dish was topped with a massive poached egg which was nice & runny (the girl next to me was not so lucky, but the staff noticed & took care of it).  I caught a slight vinegar taste in the dish (possibly from the poaching liquid), which was uncommon, but I liked it.
There was no salt & pepper on the table which annoyed me at first as I had planned to put salt on my egg from the get-go, but that would have been a mistake.  Once I got 'into' my dish, it was salted perfectly & I'm guessing that the kitchen staff know what they're doing.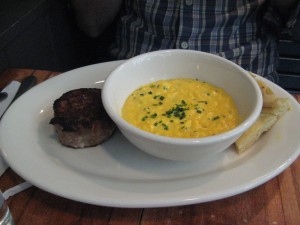 Troy got the Slow-whisked Scrambled Eggs which came with breakfast sausage & grilled bread.  I think he enjoyed it, but honestly it didn't look all that filling (although the eggs looked amazing & the sausage was gigantic!).  I have attempted to replicate this dish at home, but I just can't seem to get it right.
I've been blogging a lot about the brunches in the area & this was one of the better ones.  It's slightly on the expensive side (considering how many $10 Brunch & a Drink places I go to), but excellent value for money considering the ingredients & attention to detail.  I'll be coming back to Northern Spy for Brunch as well as dinner!

Comments