Posted on | June 3, 2010 | 1 Comment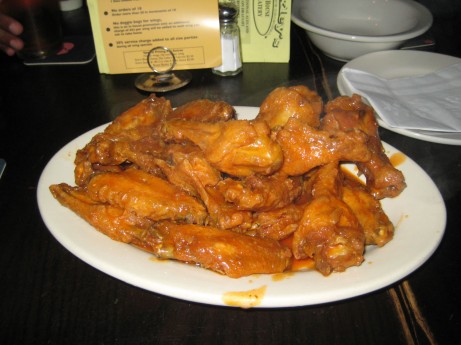 Two words; Messy Fingers.  This is what you can expect when you go to Croxley's.  Mondays and Wednesdays are 10 cent wing nights & as the picture demonstrates things can get really messy (20 cent wings til 5 on Saturday & all day Sunday), I don't know why they bother giving us forks anyhoo!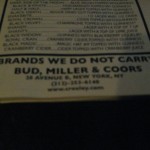 I showed up with some friends on a Monday & luckily it wasn't too crowded.  Wing nights tend to pack the place out pretty damn quickly (Monday Night Football is it's own special brand of  crazy).  Croxley has a lot of beer; 31 on tap & too many to count in bottles.  Wings or not, the beer selection alone is reason enough to go.  I love the fact that they don't serve crap; Bud, Coors, Miller, etc.
Being the gigantic wuss that I am, I ordered 20 mild wings (20 wings is the minimum order on these nights & at $2.00 who cares if you can't finish them).  The wings are pretty darn good & come out of the kitchen really fast.  This is a bit of a double-edged sword though; I do think that the huge quantity that they serve does affect quality.  The wings taste better on Tuesday, Thursdays & Fridays in my opinion.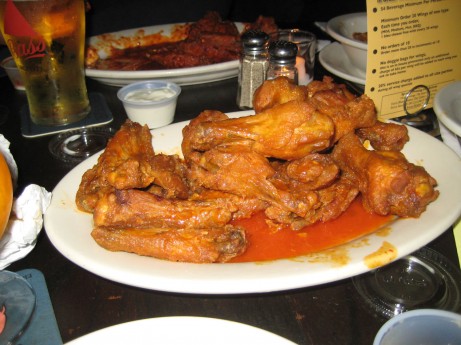 My only other real gripe is the Bleu Cheese which is a bit on the watery side (I'm a chunky kinda guy), but that really doesn't take away from the experience.
There are loads of TVs around generally with sports on.  The waitstaff & bartenders are pretty cool (although I recommend getting a table if you're going to stuff your pie hole with wings).  They have plenty of other food; burgers, quesidillas, fries & the like, but I really only go there for the wings & beer.  I've heard that the all you can eat mussels offered Thursday through Saturday are particularly good too.
Croxley gets 2 hot sauce covered thumbs up!
Croxley's:28 Avenue B between 2nd & 3rd St.

Comments