Posted on | November 17, 2010 | 2 Comments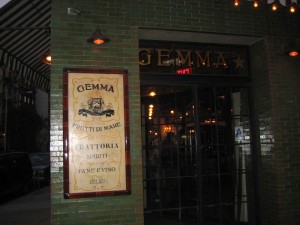 I'm always up for a free meal, so when my buddy Todd called me & said that he was going to Gemma (335 Bowery at 3rd street in the Bowery Hotel) on his boss' dime, I didn't hesitate.  I've been wanting to go here for some time, I remember when the space was a filthy old gas station, now it's a fancy hotel.  Not that I'm complaining as free Italian food never hurt anyone.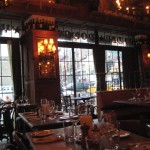 The place screams 'Italian Farmhouse', possibly to a fault.  Horseshoe shaped banquettes are accompanied by worn tables & mismatched chairs.  The table that I was seated at had obviously warped over time & made it very hard to eat as my plate threatened to topple over on several occasions, very annoying.  Horrid (in my opinion) candles, complete with massive mounds of dripping wax are offset by green tile in the service area.  Immediately noticeable, however, is the beautiful wood fired oven with cured meats hanging above, this thing looks great.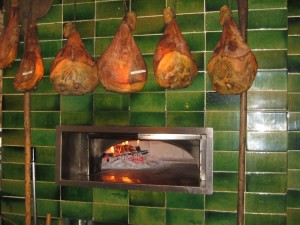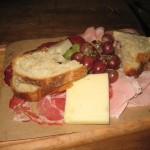 Todd's job is to review restaurants, hotels, etc. & give customer feedback, so we were both extra critical during the meal.  After getting out drinks, we sat for about 10 minutes before our waiter took our order.  We decided to share the Salumi e Formaggi ($18), a selection of meats & cheeses.  The Mortdella & Prosciutto were both very good, but the Bresoala (beef prosciutto) was completely devoid of fat & really chewy.  Todd also got a salad with Watercress, Pears, Almonds, Gorgonzola ($9).  I'm not big on veggies, so I didn't try it.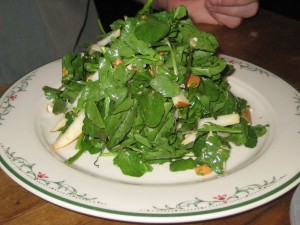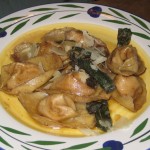 The menu is quite large & I was having trouble deciding what to get, so I concentrated on the Campari & OJs that I was sucking down.  Todd ordered some sort of tortellini with sage that was drenched in a disgustingly sweet brown butter sauce.  I tried it & I cannot imagine what the chef was thinking.  It was basically watered down Mrs. Butterworth & totally inedible.  Lacking both taste & sense, Todd finished the whole plate, only to complain about it later.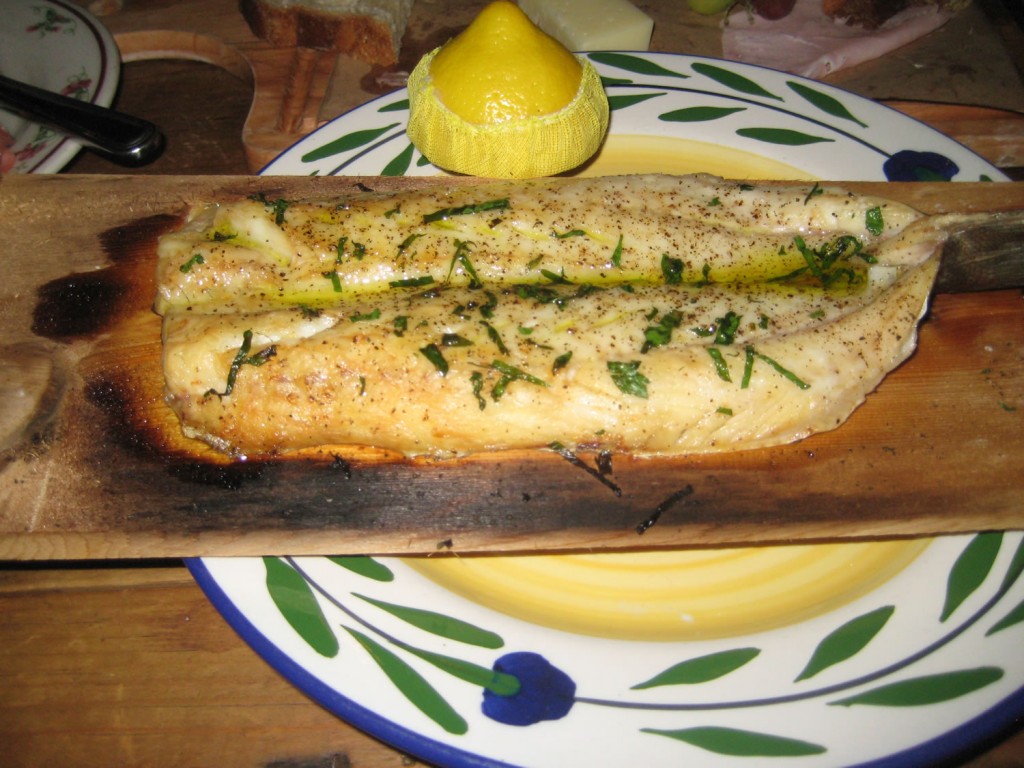 The Branzino Al Forno ($21) caught my eye, so that's what I ordered.  It's a Mediterranean sea bass roasted & served on cedar with green beans.  Initially I was very pleased with my selection, but that was short-lived.  The fish has a very subtle flavor & was actually bland, completely devoid of salt or any real taste.  The fish was butterflied & the skin stuck to the cedar which had me attempting to scrape it off.  Not exactly the best branzino I've ever had.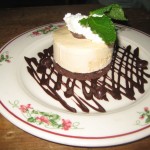 We ended the meal with the Cappuccino Semifreddo ($8) a semi-frozen cappuccino mousse, probably the best thing on the menu.  The outside was a mousse, but the center was frozen & had the texture of ice cream.  It was really very good.  There were a few mistakes in our meal, but I'm not going to write Gemma off.  Our waiter, though inattentive at first, was both pleasant & knowledgeable.  I'll revisit them & let you know how it goes, till then, check the place out for yourself.
Comments