Posted on | December 23, 2010 | No Comments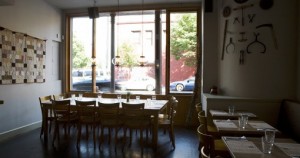 One of my favorite restaurants in the East Village, Back Forty (190 Avenue B @ 12th Street, coverage here) is hosting a New Year's Eve cocktail party.  $96 (tickets available here) gets you access from 9pm on New Year's Eve.  They'll be serving up amazing Hors d'œuvres & bringing in a whole pig & a lamb!
Starting at 9pm, Back Forty will host our second annual New Year's Eve Cocktail party.  We'll begin with a feast of nose to tail specialty hors d'oeuvres that include Wellfleet oysters on the half-shell, fresh amberjack ceviche, roasted lamb tacos and crispy pork terrine.  At 10pm we'll have a dj playing the very best of funk and soul.  Each guest is also welcome to their choice of three free drinks!  $96 per person, all inclusive.
Get your tickets while you can!
Comments