Posted on | March 30, 2011 | 2 Comments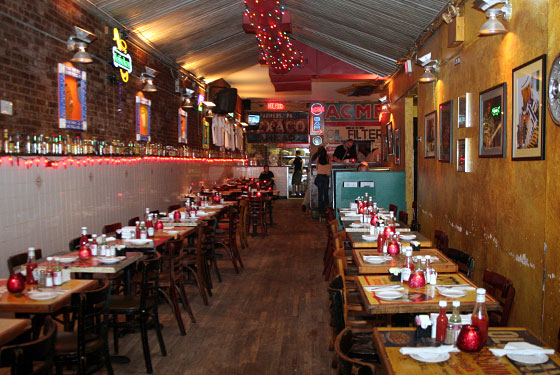 Hot on the heels of Eater.com reporting that Acme Bar & Grill (9 Great Jones Street) will be closing for much needed renovations, East Village blog EVGrieve reports that Mara's Homemade (342 East 6th Street) will be closing for good at the end of April.  The owners of Mara's (who have been at the current location for 7 years) blame the BP oil spill, rising rents & the newly installed 1st Avenue bike lanes (not sure what that has to do with anything).
Acme's owner, Bob Pollock is claiming that the restaurant will reopen, but odds are that it will not be the same restaurant that it has been for the past 25 years.  I spoke to a former employee recently who went in to work as usual, only to find that he no longer had a job.  The latest rumors are that Acme will reopen as a completely new, upscale restaurant with new staff, a new menu & higher prices.
Both of these restaurants served excellent food & they will be missed.
Update: Acme is open.
Update: Mara's Homemade is now Toucan & The Lion.
Update: Acme will be reopening as an upscale farm to table restaurant.
Image via Grub Street.
Comments