Posted on | May 13, 2011 | 1 Comment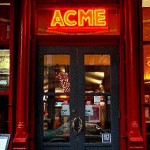 At the end of March I mentioned that Acme Bar & Grill, the 25 year old Southern Food joint, closed abruptly for renovations.  The owner, Bob Pollock, claimed that the restaurant would reopen, but I had my doubts (particularly when you look at the demo pictures)
Well, now it's confirmed; both Grub Street & Zagat Buzz report that the team behind Indochine & Kittichai (both respected restaurants with Asian roots) will be taking over the bi-level space at 9 Great Jones St.
Surprise, surprise, they'll be reopening as a more upscale restaurant (most likely catering to the boutique hotels in the area) with a farm to table concept.  I'm all for new restaurants, but I'll really miss the casual atmosphere, great fried chicken & monstrously boozy margaritas.  More news as it becomes available.
Update (3/22/12): My review here.
Update (1/22/12):  I still haven't been yet, but head over to NYC Tastes for a thorough review of Acme.
Image via Zagat Buzz
Comments