Posted on | May 11, 2011 | No Comments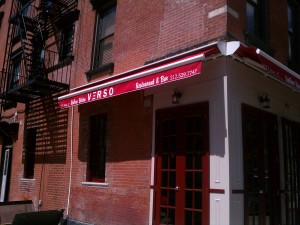 We've been eagerly watching 127 Avenue C which was formerly Caffe Cotto (& Cafe Pepe Rosso before that) & I passed by today only to find that they now have a new name; Verso.  I wasn't able to take a peek inside as workers were blocking the doorway, but there seems to b a lot of new tile work & what looked a lot like a bar running up the right side of the restaurant.  I'll keep you guys updated.
Update: Verso is now open.
Comments