Posted on | May 15, 2011 | No Comments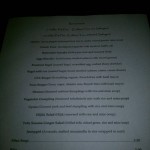 Well, it's not really breaking news, but for the past few months Sake Bar Satsko (review) has been serving brunch on the weekends (not many people seem to know this).  I had a chance to go with some friends, so here's the rundown.  The brunch menu at Satsko is a smaller version of their regular menu with a few additions such as 'Omrice' (which I had, more on that later), Eggs Benedict, Buttermilk Pancakes, Bagels & more.  Burgers (both beef & tuna) have been on the menu for a while & those are included in the brunch offerings.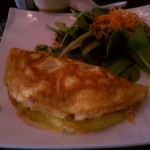 We were first treated to a 'Sakemosa' (Sake with Orange juice, pretty damn tasty too) & I ordered the aforementioned Omrice.  It's an omlet stuffed with yuzu pepper seasoned fried rice garnished with a green salad.  At first I thought I wasn't going to be too thrilled with this dish, but the flavors went well together & I enjoyed it.  Definitely something I've never seen anywhere else.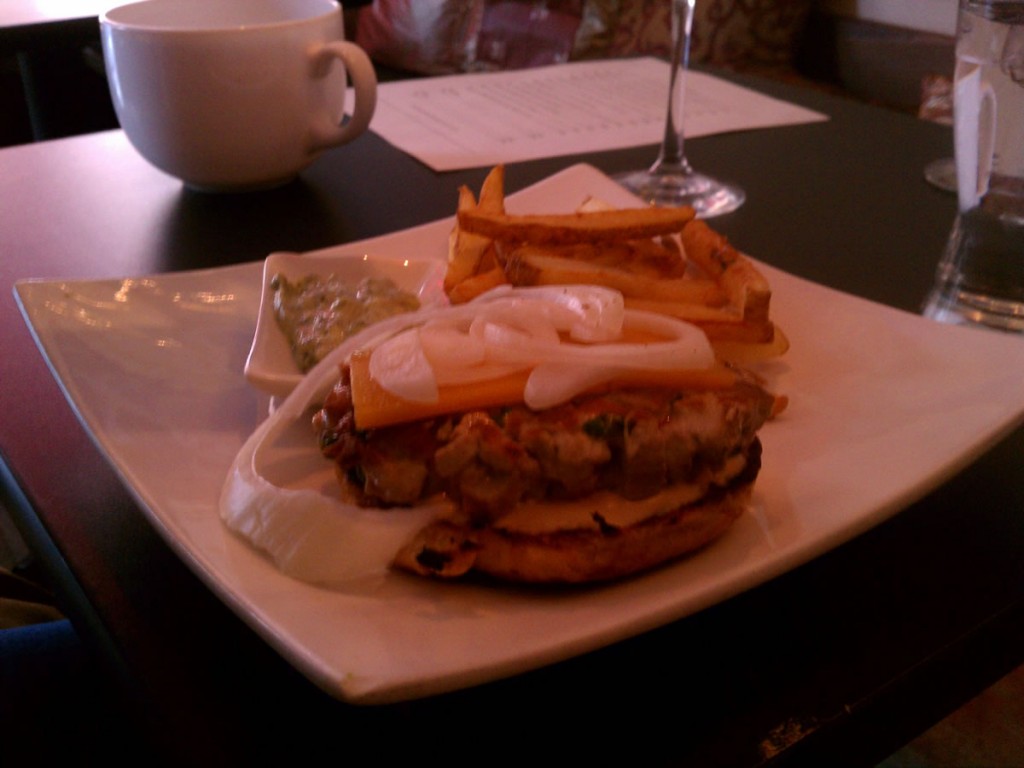 The burgers have been very popular since Satsko started offering them & they did not disappoint.  The Tuna Burger is made with capers & a cilantro mix, both burgers come with fries and basil mayo.  That's right, Basil Mayo!  You can see it in the background of the picture above; Satsko makes it fresh in the kitchen & I'm not sure what inspired her to come up with this concoction, but it is absolutely amazing!  Once you taste this stuff, you'll never look at regular mayo again, ever!
I'm glad that brunch is back at Satsko & I hope that with the weather getting better it'll become more popular.
Sake Bar Satsko is 202 East 7th Street between Avenue B & C.  Further info here.
Comments