Posted on | June 12, 2011 | 3 Comments

Updated: Click here for info on the 2012 event.
I suppose with this year's East Village Eats just around the corner (info here), it was time that I wrote a recap of the awesome time that I had the year before.  It was 8 months almost to the day ago, but I took loads of pictures & several pages of notes, so I'll try to make this as short & direct as possible.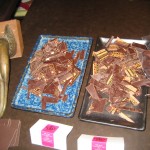 We picked up or Map & awesome Sporks at the FAB HQ on East 4th street & headed straight for Bond Street Chocolate next door.  It's a very small space so we crammed in to try the chocolates.  There were two types of dark chocolates that we sampled, both spiced (one Coffee, Chili & Cardamon, the other Szechuan Peppers), but not overly so.  A great start to the day's events!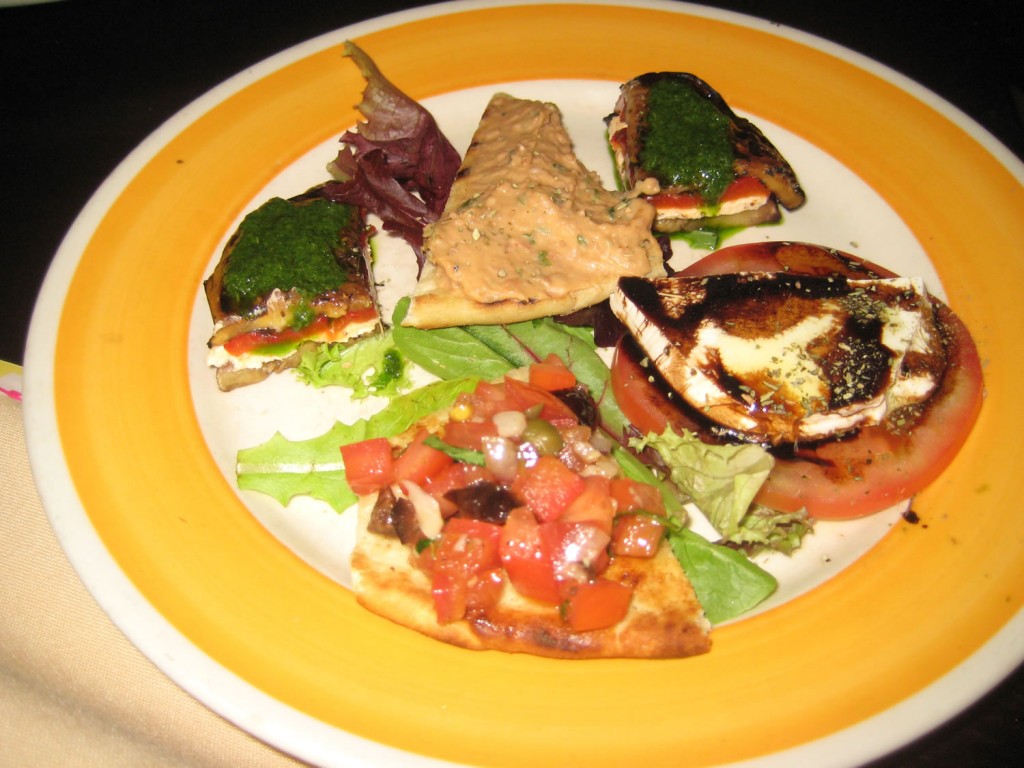 Following our handy map & wanting to get to as many places as possible, we headed east to Cucina di Pesce for what proved to be the most well put together dish of the tour.  We got a seat at the bar & were served a cold antipasto plate; tomato & mozzarella bruschettas with white bean spread, tomato & mozzarella caprese and finally eggplant stuffed with goat cheese & roasted peppers.  Honestly, I don't know if these guys realized how much more food we had to eat on the tour, but it was excellent, the staff were extremely friendly & they even offered us coffee.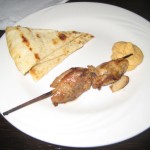 Moving on to 2nd Avenue, we went to Nomad, a Mediterranean restaurant helmed by Chef Luisa Fernandes (a winner of 'Chopped' no less!)  Here we got an African spiced chicken skewer, hummus (lots of lime, awesome) & toasted pita.
We moved on down to MONO+MONO on E. 4th which was formerly my favorite sushi spot; Jeollado.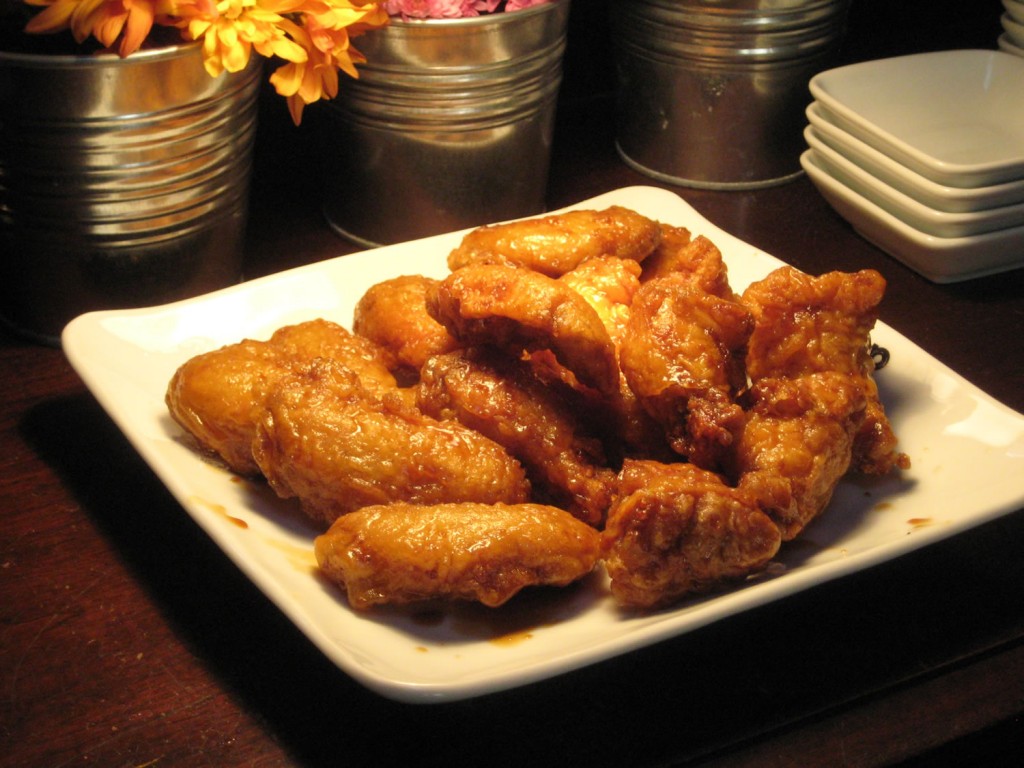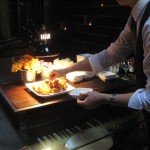 Extensive work, plenty of wood & obvious care turned this space into one of the most striking restaurants in the East Village.  Served atop the centrally located piano, the perfectly fried honey smothered wings were an absolute joy to eat.  Even though you were forced to go to the bathroom to wash your hands due to the stickiness, you got a great view of the raised DJ booth & the massive vinyl collection in the back.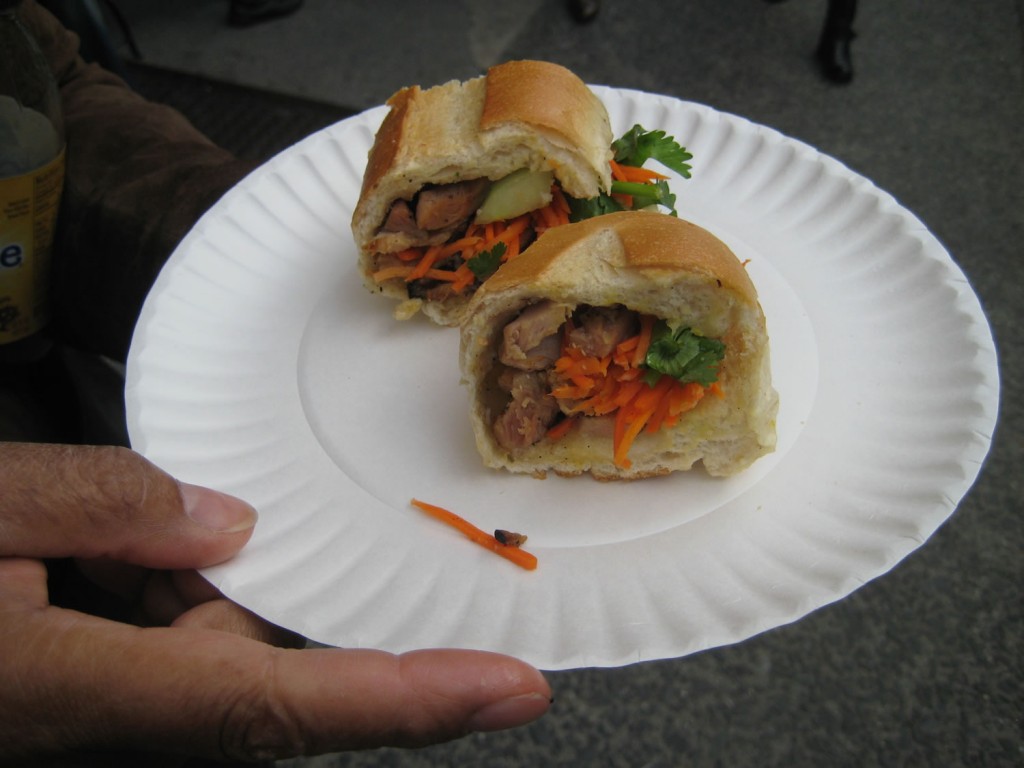 After a quick beer & rest at d.b.a., next up was Nicky's Vietnamese Sandwiches where we encountered our first 'Tasting Bottleneck'.  I'm not sure exactly what the problem was here, but it seems that the tiny shop on East 2nd St. just wasn't prepared for the rush.  Orderes got muddled in the confusion & we ended up with chicken sandwiches, rather than their signature classic pâté & pork.  Again, I blame the crowd, because our chicken was totally undercooked (please do NOT let this deter you from returning).  It had a great charring on the outside & the bread was amazing as usual, but I just couldn't get over the fact that it was underdone & not a pork sandwich.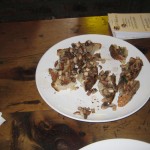 We walked to Supper next, which I thought offered the weakest dish of the Tasting Tour.  Touted as 'Mushrooms Trifolati: freshly sauteéd mushrooms on Tuscan toast', it really wasn't an accurate showing from the kitchen at Supper which is capable of so much more.
Tuck Shop on St. Marks brought a respite from massive lines & we pretty much got right in for extremely tasty cocktail-sized portions of pork & sage rolls.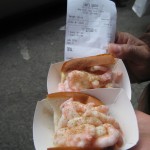 Unfortunately (but without surprise), Luke's Lobster was absolutely ram-jam, but well worth the wait.  I had never tried the Shrimp Roll, & this did not disappoint!  Fresh, sweet shrimp topped with Old Bay, white pepper (most likely other secret spices) on top of a buttered roll.  Simple, effective, delicious!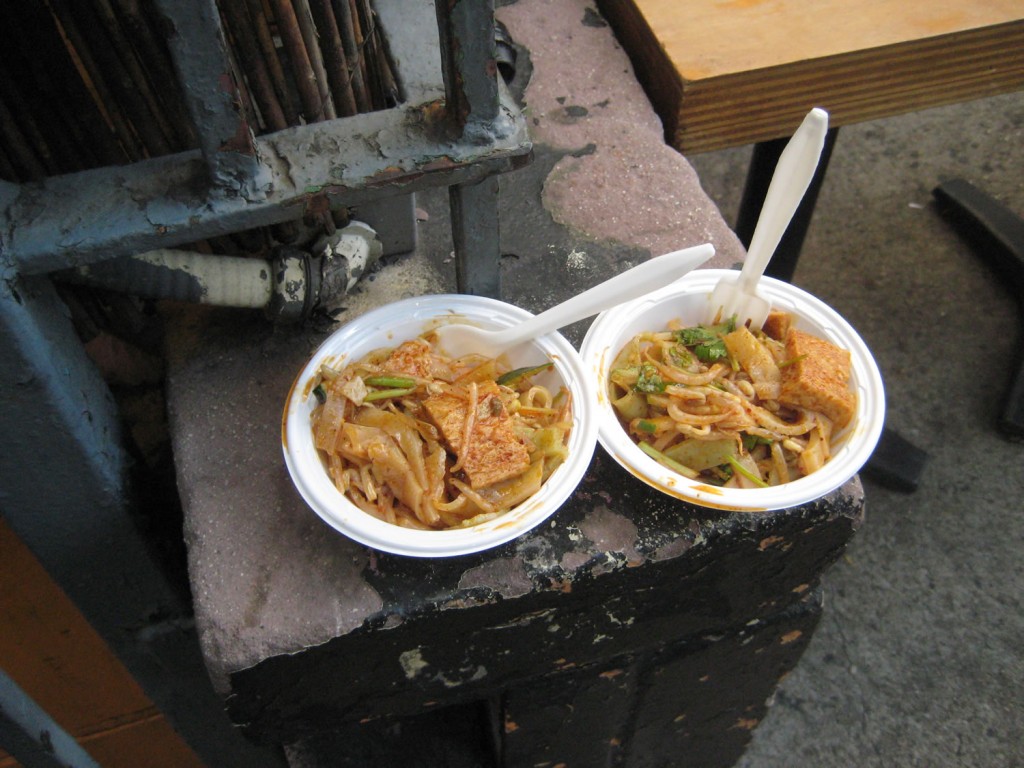 We moved on to East Village newcomer Xi'an Famous Foods.  The map had the dish listed as Liang Pi Cold Skin Noodles, but honestly this dish was way too hot to eat.  Readers of my blog will know that I'm a bit of a wuss, but I saw grown men brought to tears while others had no problem with this dish.  I was unable to eat it, but I have been back to Xi'an several times & love the place.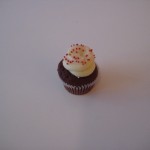 Tu-Lu's Gluten Free Bakery was out next venue & we got mini red velvet cupcakes here.  I'm not a big cupcake guy, nor do I feel the need to remove gluten from my diet, but I just didn't enjoy the cupcake.  The vanilla cream icing was way too sweet too.  Others might disagree, but that was just our opinion.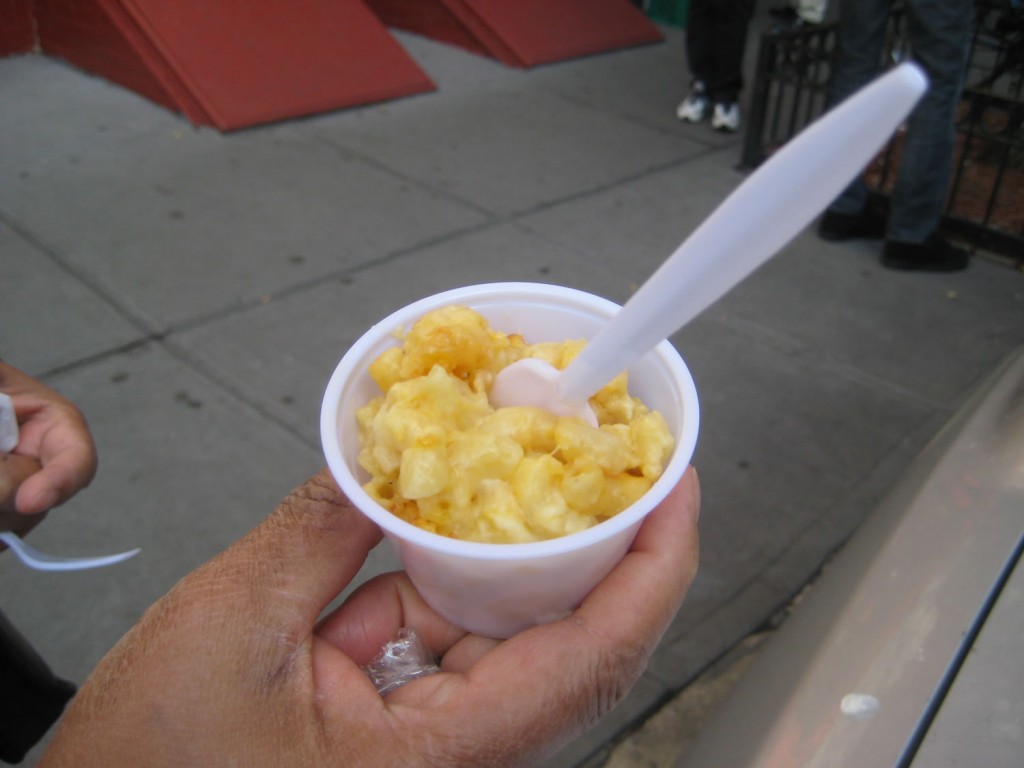 Our final stop was S'MAC on 12th street which serves nothing but Mac & Cheese.  The owner, Sarita (the S in the name) was outside, eager to talk & serving dollops of her four cheese mac & cheese; Cheddar, Muenster, Gruyere & a touch of Pecorino.  I'm a sucker for good 'mac & this ranked way up there.  A perfect way to end the tour.
I know there are several locations I missed (Faustina, Hencho en Dumbo, MUD Truck, Souen East Village, Jimmy's No. 43 & XOOM), but if last year is any indication, we'll be a-ok this year.
Info on the 2011 Tour here.
Comments