Posted on | July 26, 2011 | 4 Comments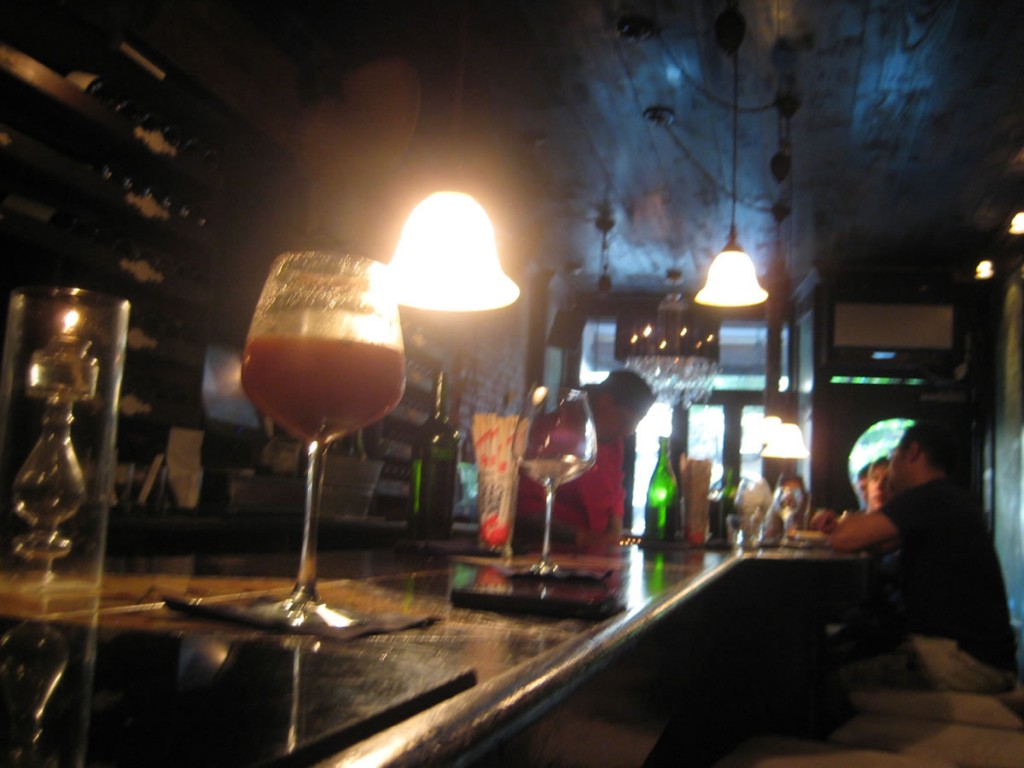 Is it possible for a restaurant to do a complete u-turn? Can a leopard change it's spots? Honestly, I would have answered no, but I've been proven wrong. After the debacle that was my first visit to Desnuda (recounted here), I reluctantly returned this weekend.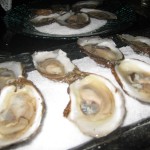 It was a Sunday, so the dollar oysters that had caused so much grief last time were on the menu. We got a seat at the end of the bar & ordered some beer along with 18 oysters. We weren't told what type they were, so I assumed that they'd be Blue Points (which I'm not a big fan of). Luckily, they turned out to be Beausoleils from New Brunswick, Canada (I was able to find out quite a bit about the oysters using The Mermaid Inn's awesome Oysterpedia app).
Served on a bed of sea salt, it looked good, but perhaps my skills were lacking. I loved the briny saltwater taste of the oyster liquor (the residual liquid left in a shucked oyster), but quickly realized that most of this was the salt clinging to both my fingers & the shell of the oyster. There were 3 toppings served with the oysters; a simple mignonette, a relish of sorts (bland) & an insanely spicy 3rd option. The relish proved to be the most disappointing, but mixing the 1st & 3rd was sublime.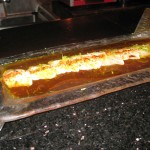 We powered through the oysters & decided to try one of the specials that sounded too good to miss. Sea Bass Ceviche ($20) seared to order. Basically small, thinly sliced, pieces of Sea Bass marinated in Kafir Lime rind, Soya Sauce & Ponzu Sauce, then hit with piping hot sesame seed oil (horribly blurry picture here) to sear the fish. I cannot put into words how good this dish was.
My only gripes are the chef's lack of interest in engaging his customers (perhaps he remembered me from my 1st visit) & the size of the place. It's absolutely tiny & you'll find yourself shuffling to let people past to the bathroom. There is ridiculous ironwork under the bar (purely aesthetic) that'll leave your knees scraped up like a Hunt's Point hooker if anyone tries to pass by. The ceviches are overpriced to subsidize the $1 oysters, but Desnuda is still worth a visit (great beer selection). Just don't expect warm service & legroom.
Desnuda: 122 East 7th St. between 1st Avenue & A
Comments