Posted on | September 15, 2011 | No Comments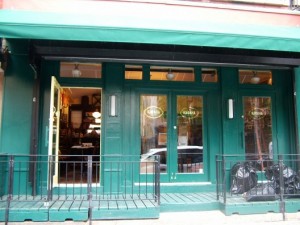 I reviewed Kafana for the first time about a year ago & it has become a place that I eat at regularly.  I'll admit that I didn't know much about Serbian food back then & I feel like I'm in a better position to talk about the dishes there.  The restaurant serves up a lot of heavy dishes (possibly best suited for cold winter nights), but it does have some lighter seafood & vegetarian options.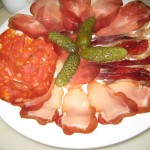 Meat Plate
I absolutely have to order this every time I go to Kafana, regardless of how hungry I am.  A selection of four types of thinly sliced dried & smoked meat that goes really well with the bread & roasted pepper spread (seen here) given to each table (it beats bread & butter in my humble opinion).
Lepinja Sa Kajmakom
Pillowy traditional Serbian bread packed with a cheese spread, served warm. Another of my favorites. You can add smoked meat for $2.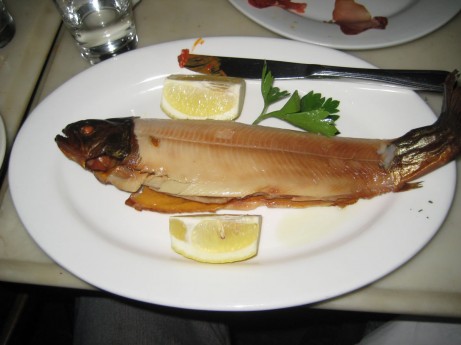 Smoked Fish
A new addition to the menu (it might have been a special), pretty self-explanatory; whole head-on smoked fish.  I'm a sucker for this stuff so I loved it.
Prebranac sa Seljackom Kobasico
Peasant sausage with beans; this is pretty indicative of Kafana's style of cooking, it's a large, filling dish that I found to be a bit on the spicy side, but lots of people order it.  Beware, it's a lot of food!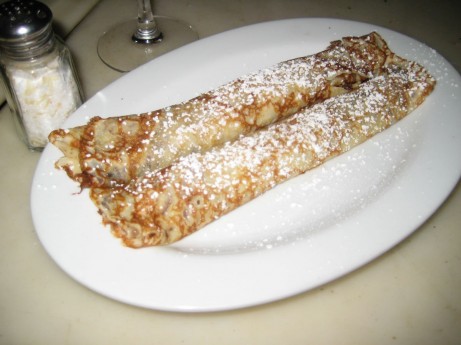 Palacinke
Crepes served with either jam or chocolate. We took the chocolate option; it was very tasty & thankfully not overly sweet. I'm not much of a dessert person, but I enjoyed this.
Kafana is a great option for trying a cuisine that you rarely see in your normal travels.  The decor is great (I love the ceilings) & the restaurant is very rarely packed so the service is attentive without being overbearing.
Kafana: (116 Avenue C between 7th & 8th street)
Further info on Kafana here.
Comments