Posted on | October 27, 2011 | No Comments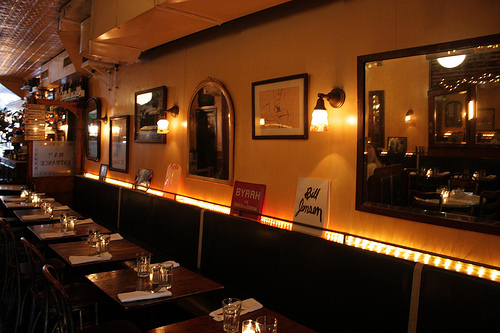 Casimir's new owner continues to make changes to the restaurant with Burlesque shows on Thursday starting tonight at 10pm.  There are also plans for the conversion of the smaller side room into a 35 seat fondue restaurant in early November.
While I am excited about the prospect of fondue (they'll be competing directly with BYOB Fondue restaurant Taureau on 7th & Ave. A), I think that burlesque (doesn't Affaire do burlesque too?) will just be a distraction from the excellent food.  More news as it comes in.
Per the press releases:
Come for dinner and stay for the show every Thursday night at Casimir!
Starting October 27th at 10:00 pm, East Village French bistro Casimir will host "Thursday Night Burlesque," an evening of titillating entertainment sure to astound and delight. Join performers Peekaboo Pointe for classic burlesque, Russian contortionist Miss E. Katarina and exotic fan dancer Jezabel Express for saucy and sizzling fun – and admission is free! It's the perfect way to kick off your weekend.
Date of Opening: November 9th or November 10th
The former Moroccan Lounge at East Village French institution Casimir will be transformed into Casimir Fondue. The cozy 35-seat annex to the main restaurant will operate as a fondue-only min-restaurant featuring cheese, meat and chocolate fondue. New décor highlights the warmth of the space, making it the perfect backdrop for Casimir Fondue's indulgent offerings. This new and exciting concept is the brainchild of new management that is poised to reinvigorate the restaurant, an early pioneer of the East Village dining renaissance. New owner Mario Carta has amassed over a decade of expertise managing and developing restaurant concepts which he plans to utilize in this his latest endeavor.
More on Casimir
Casimir: 105 Avenue B between 6th & 7th St.
Comments