Posted on | December 15, 2011 | 2 Comments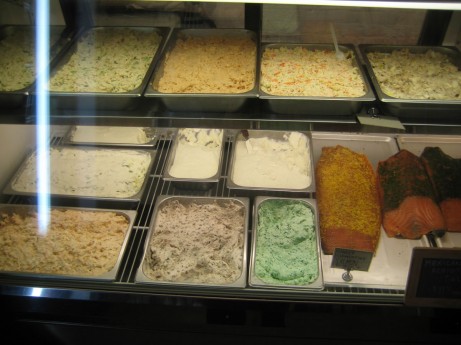 My friend Peter Shelsky opened a smoked fish store in June of this year.  He took a page out of the playbooks of both Russ & Daughters and Zabar's and set up his appetizing shop in the Carroll Gardens section of Brooklyn.  This gave people on this side of the river a place to buy smoked fish & other Jewish dishes without having to travel into Manhattan.  The store's motto is "no more schlepping…" & it makes total sense.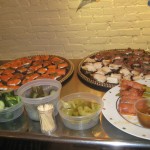 I've known Pete for a few years & had the pleasure of eating at his house & I know what he has a successful catering & cooking lesson business.  With this in mind, I knew that this new venture would succeed, but it took an invitation to a tasting night last month to get me out to the shop.  It's a pretty small space, yet totally functional & a dozen or so of us gathered around 6pm on a Monday to eat as much as we could.
Needless to say, smoked fish featured heavily on the menu.  We had salmon wrapped asparagus, smoked sturgeon (amazing!), herring & pickled vegetables.  With each offering, Peter described the fish, choice of cream cheese & the bread.  I was particularly blown away by the sturgeon & luckily for us me the numbers were low, so I helped myself liberally.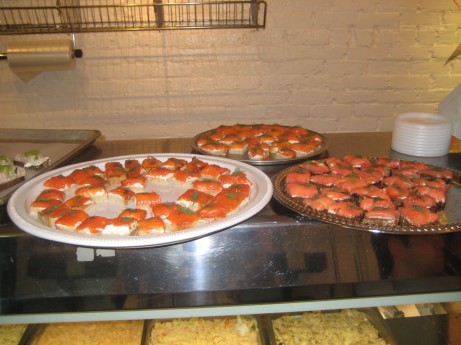 Towards the second half of the tasting, we moved on to Smoked Salmon.  There was Gaspe, Irish Double Cured & Scottish Salmon.  I had to go with the Scottish Salmon which was paired with Ben's cream cheese.  Growing up, I'd always have Philadelphia, but this stuff makes everything taste better.  I was a happy man.
There are plenty of other items on offer: soups, bread, roll mops & canned goods.  They also serve bagels with various cream cheeses & toppings.  Specialty sandwiches are also on offer that seem to defy logic but sound amazingly good.
The Peter Shelksy: Gaspe Nova, Sable, Pickled Herring with Cream Sauce & Onion served on a bagel or bialy.  What's not to love?
Check out this NY Times article on herring featuring Shelsky's Smoked Fish & further coverage on Jewcy.  Pardon Me For Asking also has great pictures.
Shelsky's Smoked Fish: 251 Smith Street

Comments