Posted on | December 16, 2011 | 5 Comments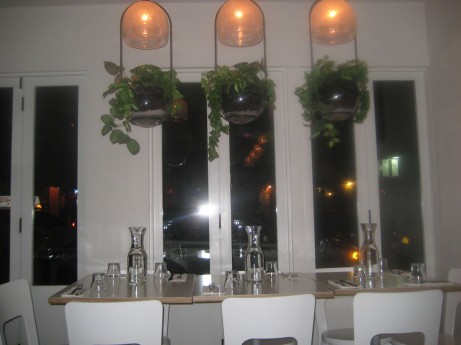 A few weeks ago I mentioned that a new restaurant was opening in the former Mara's Homemade spot on 6th Street.  I had a chance to check the place out last night & I'll admit that I was very impressed.  It's really hard to believe that this is the same space, gone are the purple & yellow in favor of clean white walls & hanging herbs.  The place looks great.
At the helm in the kitchen is Chef Justin Fertitta, formerly of Jane (reviews here & here).  The menu is short with six appetizers, four main dishes & three sides.  I imagine that these will change with the seasons & availability.  They didn't have a drink menu yet, so the bartender Trevor (formerly of Loius 649) made us drinks based on our liquor preference.  I got the Thai Fighter with bourbon, Thai basil, citrus & simple syrup.  My buddy got the Toucan (seen to the left) made with Japanese whiskey & a sake-based sweet vermouth.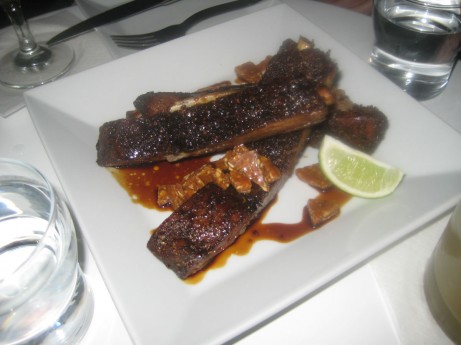 There were several dishes on the menu that really stood out, so we decided to order a few of the appetizers that are designed to be shared.  First out was the espresso glazed Pork Ribs with pumpkin seed brittle.  I don't claim to be an expert on making ribs, but I have been know to throw down.  These ribs blew mine out of the water.  Insanely flavorful with a crunchy exterior & delightfully moist meat.  Wow!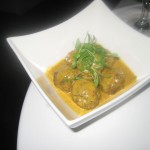 Next up were the Meatballs with curry dijon & cilantro.  Beautifully cooking pork meatballs smothered in sauce.  I really enjoyed this dish & ended up asking for a spoon so I could finish off the sauce after we had eaten all of the meatballs!  The final dish we got was the Duck Confit Mofongo.  It had crispy taro root, Chinese sausage, salsa verde & a fried egg.  That's quite a lot going on, but they totally pulled it off.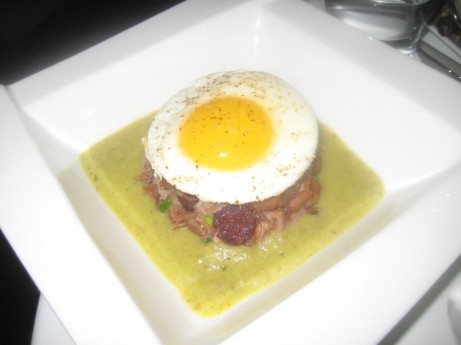 Mofongo is a Puerto Rican plantain dish, but this was an excellent adaptation.  Once you broke into the egg, the yolk really rounded out the flavors.
There was only one dessert on offer & we weren't going to pass it up.  The Bacon Doughnuts pretty pushed me over the edge & I was totally stuffed.  Made with blue or purple potatoes ( I can't remember) & topped with shaved coconut & a bacon glaze, they were pretty damn awesome.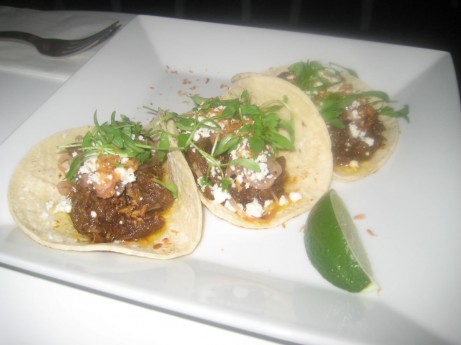 There was a couple a few tables down from us that ordered the Applewood Smoked Bacon Burger & the Chili Tamarind King Prawns, both looked awesome.  Friends of ours arrived after we had finished eating, so we sat with them.  They ordered the Beef Short Rib Tacos, Araka Waka (curry pickled vegetables with toasted peanuts) & the Farro Risotto.
I enjoyed my meal here & the food was well received by all.  If I had to describe the cuisine, I'd probably say that it's a gastropub with Asian influences.  The place is brand new & still working out a few kinks but I'm excited about the restaurant & will be coming back.
Further coverage here
The Toucan And The Lion: 342 East 6th Street off of 1st Avenue
Comments