Posted on | April 15, 2012 | 1 Comment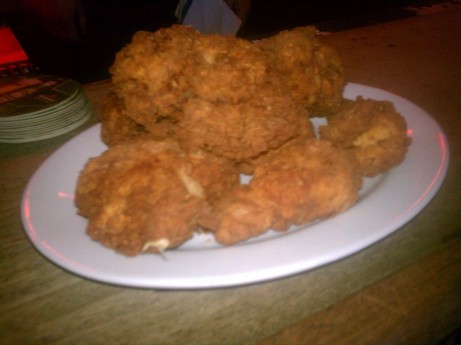 Chef Steven Reese has launched a new special at the East Village location of Korzo Haus (coverage here).  Every Wednesday for $20 you can get all-you-can-eat fried chicken & a pitcher of beer.  Ok, the pitcher of Kelso Organic isn't exactly 40 oz. but as Steven puts it, the missing 5.1 ounces "is for your homies".  I've had a chance to try the chicken & I was really impressed.
Brined with buttermilk & garlic, the chicken is dredged in flour & egg and fried in the same oil that makes their amazing burgers.  I thought that the chicken was really moist and normally I avoid white meat like the plague, but I had a chicken breast & it was awesome.  If you feel the need for a side, try the Halusky or the German salad.
This week was the first run & it was really packed, so you might want to get there early.
Korzo Haus (178 East 7th St. @ Avenue B)
Comments