Posted on | October 18, 2012 | 1 Comment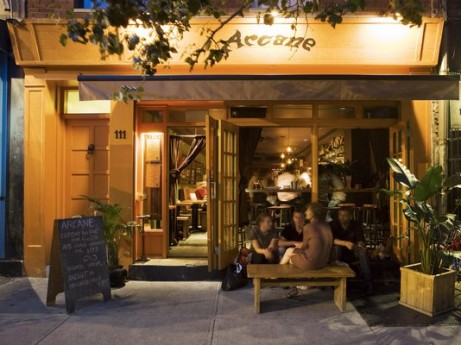 East Village restaurant Arcane has brought in chef Justin Fertitta (formerly of Jane and Toucan & The Lion) to revamp their menu.  Previously featuring French and Caribbean cuisine, chef Fertitta (who has traveled extensively in the region) has added Asian influences & shortened the menu to 6 starters and 6 entrees.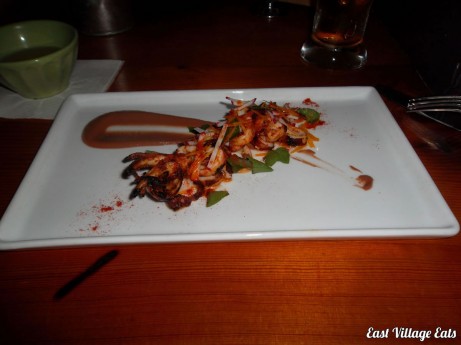 I started with an awesome Spiced Cauliflower soup with mustard seeds.  With the weather cooling down, I found this dish particularly appealing.  The Calamari was plated with olive tapenade, orange basil & paprika.  If you've ever cooked calamari at home, you know how easy it is to mess this dish up and basically make them inedible.  This was cooked perfectly.  I did, however, find myself wanting more of the tapenade which really rounded out the dish.
Salmon Tartare was served with a raspberry vinaigrette.  I'm a big fan of tartares in any way shape or form (I'm still waiting for horse meat to hit our plates, roadtrip to Montreal anyone?), but the salmon was really unique as the raspberries added a sweetness that I was unaccustomed too & there was a nice crunch from the peanuts & prawn crackers.
I'm not much of a salad eater, but on my second visit I tried the Kale Salad (deep fried, with brussels sprouts, beets, dill & cashews) and the Green Papaya Salad.  This was much more up my alley as there were bits of grilled beef hidden inside.  As with the tartare, the peanuts added a pleasant crunch.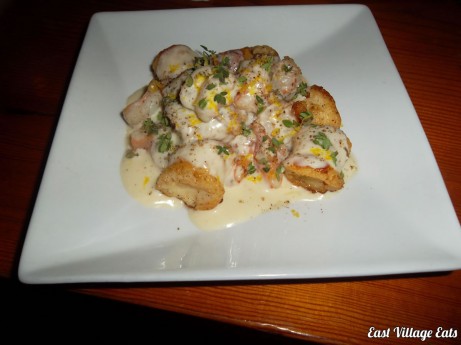 On my first visit I tried a small sampler plate of the Ricotta Gnocchi.  I enjoyed it so much that I ordered a full portion the next time I ate at Arcane.  The Gnocchi are pan fried & smothered in a rich Pecorino reduction.  This is comfort food redefined.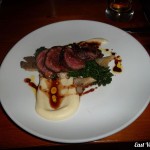 Hanger Steak (cooked to a perfect rare) is served with a creamy parsnip puree, grilled kale and mushrooms.  Arcane also offers a Rabbit Risotto which I have yet to try.
I also had a chance to check out an Asian-inspired Poutine; fries, chicken stock & star anise gravy, cheese curds, ginger chili sauce, basil,  radish — Really morish.  As if I wasn't full enough, I tried the Coconut Panna Cotta.  Topped with frozen berries & lavender, it was a perfect end to a great meal.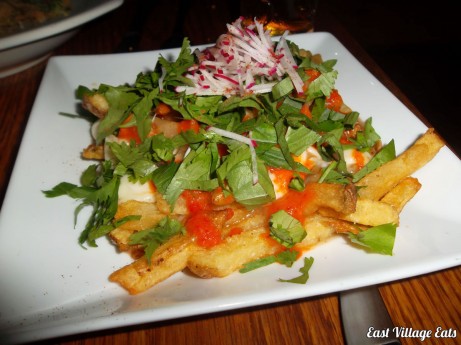 The new menu is spot on & with the kitchen open till midnight during the week (1am on Fridays & Saturdays), Arcane is a perfect place to load up before a night of drinking, or grab a bite to soak up all that booze you've been drinking.
Full Menu here.  Previous coverage here.
Arcane: 111 Avenue C between 7th & 8th St.

Comments