Posted on | March 24, 2014 | No Comments

From the Inbox:
On Sunday, March 30th, 2014, Time Out New York and Food Bank For New York City are teaming up for the 11th annual Time Out For Hunger campaign! On March 30th, participating restaurants in the five boroughs will be donating 10% of their daily proceeds to Food Bank For New York City, so dine out for a cause and help in our efforts to end hunger in our city!

100% of the donated proceeds go to Food Bank For New York City, and every $1 donated helps provide 5 meals for New Yorkers in need. Every dollar matters!
Participating East Village & LES restaurants are:
Cafe Grumpy: 13 Essex Street
Dos Toros: 137 4th Avenue
Hencho En Dumbo: 354 Bowery
Luke's Lobster: 93 East 7th Street
Paul's Da Burger Joint: 131 2nd Avenue
Map and further information here.
Posted on | March 23, 2014 | No Comments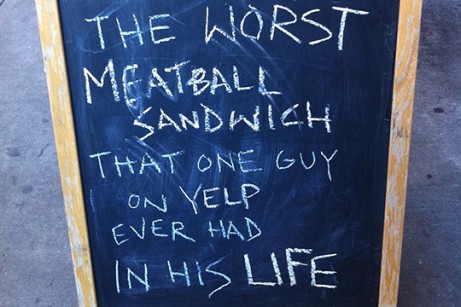 Joe Dough Sandwich Shop  switches to catering. Fork In The Road
At the Streecha Ukrainian Kitchen. EVGrieve
Seventies Sundays at Golden Cadillac. Fork In The Road
Jeepney and Pig & Khao get 2 stars. NY Times
Virage closes for month-long renovation. EVGrieve
Bobby Flay opens Gato on Lafayette St. Tasting Table
Boukiés closes after 2 years. Bowery Boogie
Posted on | March 21, 2014 | No Comments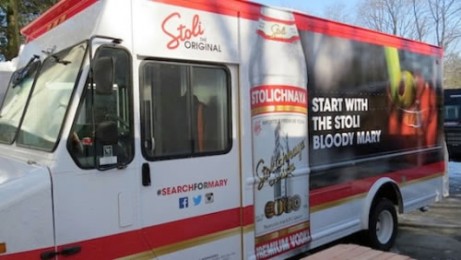 As part of their "Searching For Mary" campaign, a Stoli-branded food truck will be parked outside 7B in the East Village tomorrow (Saturday May 22nd) from 3pm dispensing FREE Stoli Bloody Marys.  Pretty self-explanatory.
Tour info here.
7B/Vazac's Horseshoe Bar: 108 Avenue B at 7th St.
Posted on | March 21, 2014 | No Comments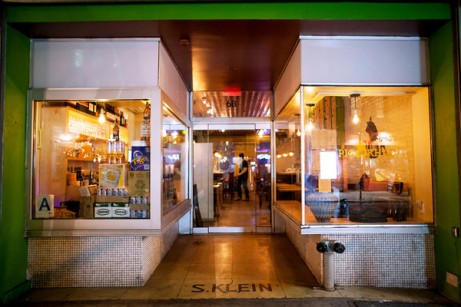 From the inbox:
What: Chef Leah Cohen of Pig & Khao kicks off Suckling Pig "Lechon" Dinners.  Serves 6-10 people (or more). Reservations must be made one week in advance via phone (212-920-4485) and a 50% deposit is required. The pig is brined for two days and then slow cooked before it is finished at a high temp to ensure a crispy skin.  In addition to the pig, diners get two vegetable sides and unlimited rice.
When:  Sundays – Thursdays (not available Fridays & Saturdays)
Where: Pig & Khao, 68 Clinton Street between Rivington & Stanton, 212-920-4485,  P&K offers an outside patio for dining al fresco.
Price: $45 pp
Posted on | March 6, 2014 | No Comments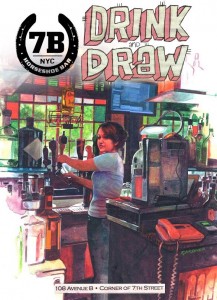 7B's 2nd Drink & Draw of 2014 will be held on Friday March 21st from 3-6pm.
Dust off your art supplies while drinking complementary Anchor Brewing pints.
Further information is available here.
7B/Vazac's Horseshoe Bar: 108 Avenue B @ 7th Street
Posted on | March 5, 2014 | No Comments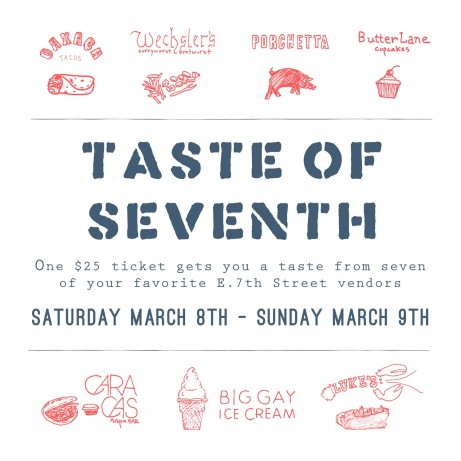 Looks like it's that time of year again!  Taste of Seventh is upon us & the organizers have upped the ante with seven of my favorite restaurants on East 7th street participating:
Taste of Seventh is a weekend food festival (March 8-9th) for those who love sampling a little bit of everything all on the same (best) block! Folks who live in the hood, those traveling from other hoods and those who just love to eat—this is the best reason to visit us this March.

Team 7th Street includes:

–Luke's Lobster, an East Village OG since 2009 now with six NY stores, one truck and a Park Slope location on the way, serving a Maine-style, half lobster roll;

–Caracas Arepa Bar, straight from Venezuela with New York temperament, serving La Mamasita Arepa with grilled mushrooms, roasted corn, sweet plantains and the works;

–Porchetta, one of Time Out New York's 100 Best Dishes, offering their miniature traditional Italian roast pork sandwich with aromatic, crispy skin;

–Wechsler's Currywurst, a temple to German sausage, serving pork bratwurst with curry ketchup and fries;

–OaxacaTaqueria, celebrating a Mexican city rich in food culture, serving a mini burrito;

–Butter Lane, teaching the world how to bake perfect cupcakes, serving one of their six favorite cupcakes;

–Big Gay Ice Cream, the team that made old-fashioned soft-serve ice cream unique with glamorous toppings, serving the Apple Gobbler, a vanilla sundae with grahams, bourbon butterscotch, apple butter and whipped cream
At $25, this is an excellent opportunity to sample some great food.  Tickets Available HERE.
Check out my coverage of the 2011 event here.
Posted on | February 28, 2014 | No Comments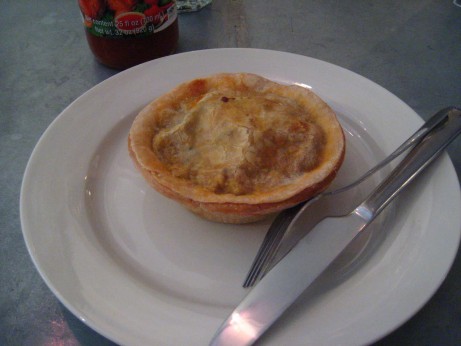 The folks over at Tuck Shop are giving away a free savory pie (one per person) until March 2nd.  Go to their East Village shop, click on this link with your mobile device and show your server.  It's a fairly easy process to get your hands on a delicious pie (I'm  big fan of the traditional beef pie).
Tuck Shop: 68 East 1st Street
Posted on | February 22, 2014 | No Comments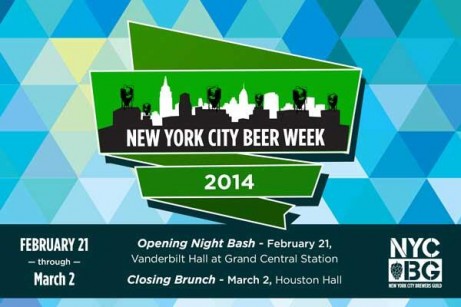 As if Restaurant Week wasn't enough to deal with, we have ten days of great beer events & specials going on all over the city.  Hosted by the New York City Brewers Guild, this is an excellent opportunity to support local beer.
the 6th Annual New York City Beer Week will bring together all 16 NYC craft breweries, nationally and internationally renowned breweries, over 100 venues with hundreds of events, celebrity chefs, and acclaimed restaurants for the premier craft beer spectacle of the year.
East Village (*and surrounding areas) participants include:
5 Napkin Burger*: 150 East 14th Street
Cooper's Craft & Kitchen: 87 2nd Avenue
Good Beer: 422 East 9th Street
Hearth: 403 East 12th Street
Jimmy's No. 43: 43 East 7th Street
Paulaner-Brauhaus NYC*: 265 Bowery
Proletariat: 102 St Marks Pl
Swift Hibernian Lounge: 34 East 4th Street
Terroir: 413 East 12th Street
Interactive map with all participants here.  Further information on Beer Week here.
Posted on | February 20, 2014 | 1 Comment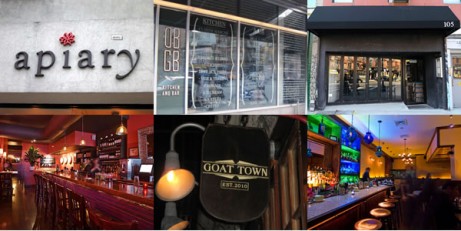 Ok, it might have started a few days ago & I'm obviously playing catch up, but there are some great dining options in the East Village for this year's Restaurant Week.  For those who aren't familiar (Really?  Been by a bus stop lately?), this is an annual event that gives us regular folk a chance to get three courses at some of the city's best restaurants at a reasonable price.
Obviously, the East Village is no slouch in the food department & there are some great options this year:
Apiary (American New): 60 Third Avenue
DBGB Kitchen & Bar (French): 299 Bowery
Empellón Cocina (Mexican): 105 First Avenue
Fonda (Mexican): 40 Avenue B
Goat Town (American New, coverage): 511 East 5th Street
Yerba Buena (Pan-Latin): 23 Avenue A
While these are the restaurants listed within the East Village, we all know that there are no set boundaries, so don't forget: Preserve 24, Indochine and plenty of other restaurants in the Lower East Side & surrounding areas.
Check out NYC Go for all participating restaurants.
Posted on | February 13, 2014 | 1 Comment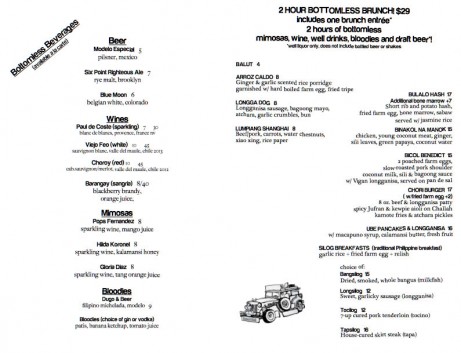 Filipino gastropub, Jeepney, has introduced a bottomless brunch on weekends 2 hours of booze and an entree for $29.  I'm  big fan of Jeepney (as well as it's sister restaurant, Maharlika) and I do love to get drunk, so this is a nice addition.
It seems like a lot of East Village restaurants are offering bottomless brunch options: Idle Hands, Poco & Virage are but a few.  There's a pretty decent Yelp list here.
Jeepney: 201 1st Avenue at 12th street.
« go back
—
keep looking »