Posted on | June 14, 2011 | 1 Comment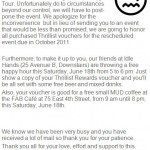 News is scarce, but the Food Tour slated for this Saturday has been postponed till October.  I'll post more info as it becomes available.  In recompense, Idle Hands will be offering free drinks this Saturday from 5-6.  Just show your Thrillist printout.
Update: Ian Duncan digs up more info here.
Comments