Posted on | November 30, 2011 | 3 Comments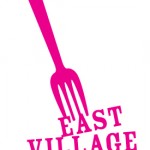 Although being postponed for a few months & having to try to outdo the 2010 event, this year's East Village Eats Tour run by Fourth Arts Block did not disappoint.  I realize that I'm a few weeks late, but I had such a great time that the memories & flavors are still fresh in my mind.  We lost a few vendors this year: S'mac, Nicky's Vietnamese Sandwiches, Tuck Shop & Nomad to name a few.  There were also a lot of great additions that more than made up for it: Destination Bar & Grille, FAB Cafe, Hench en Dumbo, Idle Hands, Oaxaca & Swift.
There was quite a turnout this year & I had the pleasure of going with my brother & a friend.  After getting our wristbands & trusty Spork, we started at The Cart. They were serving frozen chocolate covered bananas.  I appreciate the concept, but the bananas were frozen solid & weren't all that tasty (in my opinion).  I think I would have preferred them if they were a bit warmer.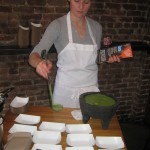 Next on our list was nearby Hencho En Dumbo (354 Bowery2 2nd St.) where they were serving Carnitas de Constilla; slow roasted Berkshire pork ribs with spicy guacamole salsa and topped with onions & cilantro.  I'd heard of the place, but never been there before.  We were greeted with a small, but well laid out restaurant.  Our attention soon turned to the smell of spices in the air where an employee was serving the ribs.  I'll be the first to admit that they fell off the bone & were delicious, but the salsa was a bit too hot for my sensitive taste buds.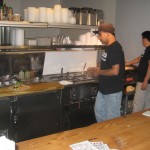 Next on the list was Oaxaca (16 Extra Place), another spot I've never been to.  Extra Place has got a lot of press (see EVGrieve) & is looking pretty awesome.  By the time we got there, it was a bit of a choke point, but well worth the wait. I got a mini burrito with chicken (pork was also an option), pickled onions, pico, salsa & avocado lime.  I was a happy man.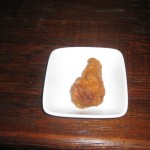 We carried on, bravely, to Mono+Mono (116 E. 4th St.), a survivor of last year's Tasting Tour & recipient of one of the most amazing renovations in the East Village (former Jeollado customers will know what I'm talking about).  Putting the massive record collection & awesome decor aside, Mono+Mono's East Village outpost is serving up some of the best fried chicken outside of Koreatown.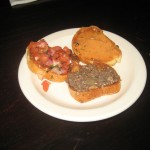 We doubled back on ourselves & went to Cucina Di Pesce (84 East 4th St.) which is basically by the starting point.  Thy served a Trio of Bruschetta; sauteed mushrooms, chopped tomato w/ onions & basil and white bean spread.  I'll admit that I wasn't impressed & it was far off the amazing Antipasto that they served in 2010.  I expected a bit more from them & this was my first real disappointment of the Tour.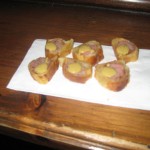 Swift (34 East 4th Street) is another new addition & had Myers of Kewsick's awesome sausage with bacon, wrapped in puff pastry & topped with beer mustard.  It reminded me of everything that a 'Toad in the Hole' should have been when I was is school in England.  Surprisingly, I was very impressed with this dish.  it seems so simple at face value, but it was packed with flavor.
The next stop was Jimmy's No. 43, a spot that I've been to before (anyone remember the All You Can Eat Oyster night that ran out of oysters?) & not held in much esteem.  Well, it was more of the same when I arrived.  We were meant to get Mini Vietnamese banh mi pork sandwiches, but were greeted with empty plates.  By this point I was already pretty stuffed.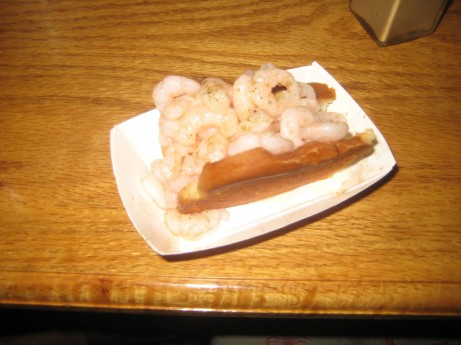 The always reliable Luke's Lobster was at bat.  While not the house speciality; the Lobster Roll, we got the same Mini Shrimp Roll from last year & it didn't disappoint.  Deliciously sweet, spiced, shrimp tucked into heavily-buttered toasted buns.  What's not to love?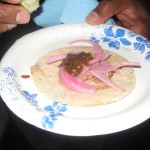 Our final stop was La Lucha (147 Avenue A) for a small Carnitas Taco; broiled pulled pork topped with pickled onions.  Pretty simple, but tasty, the pork was really flavorful, bravo!
At this point we decided to call it quits.  There were restaurants & bars left on the list, but I couldn't eat another bite if I tried.  The Tour this year was a great success.  If you weren't able to make it, keep your eyes peeled in '12!
Comments