Posted on | October 4, 2011 | 3 Comments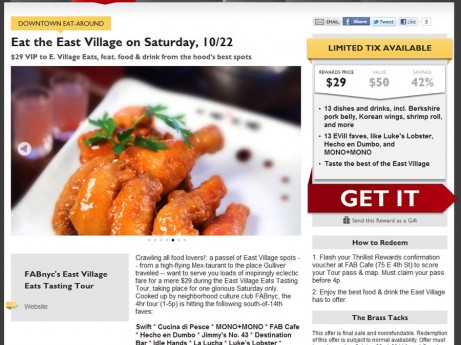 Fourth Arts Block's East Village Eats Tasting Tour, originally slated for June 18th & postponed (more here) is back on Saturday October 22nd, 1-5pm! Participants include:
Swift, Cucina di Pesce,  MONO+MONO,  FAB Cafe, Hecho en Dumbo, Jimmy's No. 43, Destination Bar, Idle Hands, La Lucha, Luke's Lobster, XOOM & Oaxaca.
$29 gets you around $50 worth of food, drink & discounts.  See You There!  Here's my coverage of the 2010 Event.
Your tickets from the original June event are still valid.
Tickets via Thrillist.
Comments