Posted on | April 7, 2010 | No Comments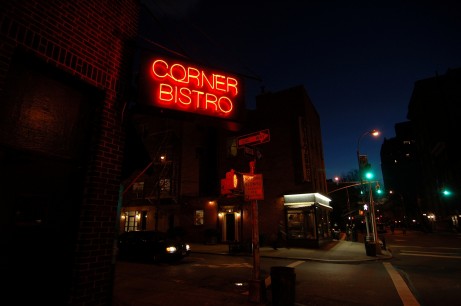 I've been eating a lot of burgers recently, so I jumped at the chance to revisit Corner Bistro, one of my old favorite burger spots.  I love the no frills decor, the older bartenders & in particular, the burgers.  I ordered some fries to start, but honestly, I wasn't very impressed with them.  It had been quite some time since my last visit & I'm pretty sure that they were better back then.
I moved on to the $6 cheeseburger, medium-rare (sorry, no pictures, I didn't have my camera with me) & I really was blown away.  I'm not sure if it was the blend of meat used, the flame-broiling, or the skill of the chef (or all 3), but I really enjoyed this burger.  I've had problems in the past sitting in their back 'dining room', so I chose to sit at the bar with the engaging bartender.  With a small menu & skilled staff, Corner bistro still ranks among my favorite NYC burgers!
Corner Bistro: 331 West 4th Street @ Jane St.
Comments