Posted on | April 29, 2017 | No Comments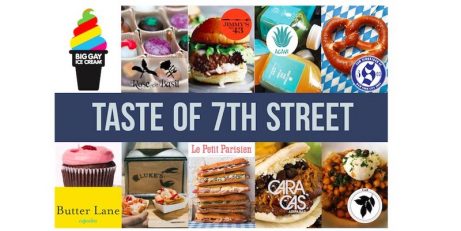 Taste of 7th Street returns next week from May 4th-7th.  I'm not sure when they changed from the one-day event format, but this year you can get 10 dishes from the participating restaurants for a mere $30 over the course of 4 days.  The restaurants this year are:
AGAVI JUICE BAR – One Cold-pressed "Hangover Bae"
BIG GAY ICE CREAM – A Mini Pumpkin Gobbler Sundae
BUTTER LANE CUPCAKES – One Fresh-Baked Sweet Cupcake
CARACAS AREPAS – One Beefy, Cheesy "Arepa De Pabellón"
C&B CAFE – Chef Ali's Famous Tunisian Breakfast Stew "LabiLabi"
LUKE'S LOBSTER – Snack-Sized Lobster Roll
JIMMYS No 43 – Mini Pork Belly Slider
LE PETIT PARISIEN – Snack-Sized "Le Parisien" Ham Sandwich CLASSIC
ROSE & BASIL – Two Delectable Chocolate-y Truffles
ZUM SCHNEIDER – One Freshly Baked Bavarian Soft Pretzel (PROST!)
Your ticket also included access to the kick-off party on at ILevel (37 E. 7th St.) Wednesday May 3rd 6-9pm.  I haven't been to the event in a few years, but the increased number of participating local businesses & the option of spreading out all of this eating over a few days has me excited.
Get your tickets HERE. Sale ends Tuesday night at Midnight.
Comments